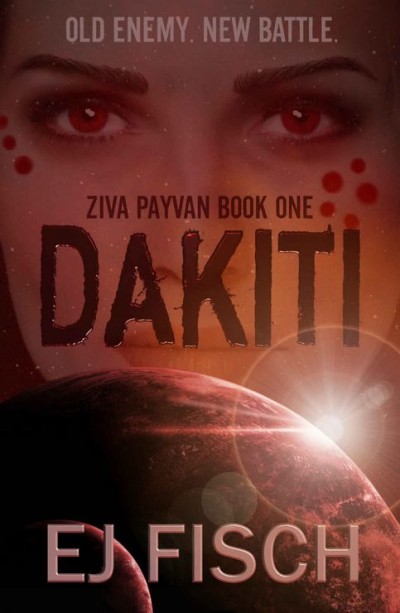 This series opener is a rousing science-fiction action adventure yarn, far better crafted than today's average first novel. (I'm guessing that Transcendence Publishing is a real small press, not simply a printing service for self-publishing authors; but in either case, Fisch has taken her craft seriously and given readers a polished work.) The premise appealed to my liking for action-oriented heroines, so I took the opportunity to try out the series by downloading this novel when it was offered free for a day. (I'll definitely be buying a print copy!)
We have here a tale of interplanetary intrigue, set in a far-future galaxy widely colonized by humans, whose far-flung settlement has brought them into contact with various alien races. Our main series characters belong to one of these, the humanoid Haphezians. They're not really "super-human," but they are taller and more muscular than Earth humans, with strength and endurance to match; and with two stomachs, they only need to eat every few days. (Otherwise, they're physically much like humans, except for more vividness and variation in eye and hair color.) In this novel, we also meet another alien race, the reptilian Sardons. Characters from all three races will interact here, in a galaxy that's riven by tensions, and sometimes open warfare.
Much of human space is ruled by a powerful Federation. But some fringe human planets like Tantal maintain their independence; and as in the Star Wars universe, the Federation faces resistance from a guerrilla insurgency that has elite fighters, the Nosti, who have special telekinetic powers (unlike the Jedi, theirs are derived from injections every ten years with an illegal psi-enhancing drug). The Haphezian monarchy faces a terrorist insurgency of its own, called Solaris; and some years ago fought a war with the Sardons, who sought to end the Haphezian monopoly on the caura extract trade. Ziva and Aroska serve the Haphezian Crown as agents of the HSP, Haphezian Special Police; and Haphezians are much in demand from other, less combat-capable, peoples as allies or as mercenary soldiers. That's what's brought hereditary Tantali governor Enrike Saiffe and his son Jayden on a diplomatic mission to Haphez near the novel's beginning. Meanwhile, there's a plot afoot that Ziva and her team will have to discover, and it's a nasty one.
All of this political background is quickly sketched here in the process of narrating swiftly-moving events, without noticeable info-dumps (I expect it to be developed more in the succeeding books). Haphezian culture is suggested a bit more fully than that of the other two races involved here, but detailed world building isn't the author's strong point. Rather, her strong points are tight plotting, smooth and direct prose style that does what she wants it to, well-written action scenes (and a lot of them!), a conflict against a foe whose aims and methods are definitely evil, though that doesn't mean that we think the Haphezian regime necessarily resembles goodness incarnate; and above all, character development and interrelationships between characters. (We're not talking about romantic relationships here, but human relationships –and Haphezians are as "human" as you and I in those respects, regardless of how many stomachs they have.) Fisch throws some twists and turns into her plot (one of these I saw coming –but the satisfaction of guessing rightly is part of the fun!) and the last chapters especially are suspenseful right up to the end (reading these, I was glued to the screen!).
Ziva Payvan is a complex, round and dynamic character, embodying more than physical strength, good aim with a gun, and quick reflexes –though she's got all of those, in enough measure to make her a VERY formidable fighter in any combat situation; you definitely don't ever want her as an opponent! She's an intelligent, layered person with a capacity for strong feelings, an inner moral code, and a lot of loyalty; but she's not necessarily likeable. A product of a rough childhood and adolescence and of a dysfunctional family, she harbors some secrets and has made some bad choices, one of them really dark. And her government has trained her, and used her, as a professional assassin for State-sanctioned killings, with attendant toll on her softer feelings. She's also abrasive, arrogant, and hot-tempered. But Fisch manages to make her a person you care about.
Aroska Tarbic is also a well-developed character, a strong, tough male well able to handle himself in combat, and with no problems about fighting shoulder-to-shoulder alongside of a woman. (Commendably, Fisch shows both male and female characters routinely taking fighting responsibility, and handling it well.) Indeed, all of the important characters here come to life in the author's words. Many of the situations and scenes here are powerfully emotionally evocative.
One aspect of the premise here is problematical: Haphez is a highly-developed, tech-savvy planet with a culture that undoubtedly boasts centuries of development. It seems implausible that they wouldn't have developed a more efficient judicial system, and a more efficient way of carrying out capital punishment, than they apparently have here. We can say the same for a few key details of the plotting that don't stand strenuous examination too well. And hard-SF buffs will quibble about the impossibility of real-time interplanetary radio communication between planets that are light-years apart, given the relatively slow speed of sound waves. (In Ursula LeGuin's fictional Hainish universe, an invention called the "ansible" eliminates this problem –we're not told how, it just does!– but as far as we know, Haphez doesn't have the ansible.) None of these factors kept me from really liking the book, though! I absolutely plan to continue with the series.
Note: Bad language here (strictly of the d- and h-word sort) is minimal, and there's no sex, explicit or implied. Very romance-phobic readers can approach this tale without fear.
Author: E. J. Fisch
Publisher: Transcendence Publishing, available through Amazon, both for Kindle and as a printed book.
A version of this review previously appeared on Goodreads.