"Teenage lesbians! With guns! How could they go wrong? Well…read on."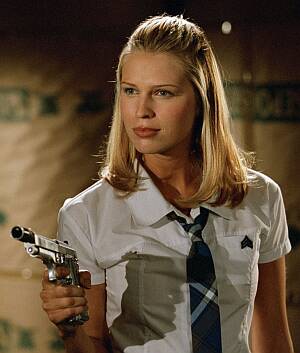 As Kim Possible proves, there's certainly scope for a high-school action heroine who has to save the world from evil. Unfortunately, here, the potential largely gurgles down the plughole, in favour of a smug, self-satisfied romantic comedy, that manages to be as bland as a film about teenage lesbians could be. Amy Bradshaw (Foster) gets a perfect score on the test hidden within the SAT, and is recruited into a spy academy; there, with her classmates (Good, Ritchie and the always amusing Devon Aoki), she carries out secret missions, wears plaid skirts and agonises over her relationship with her boyfriend.
So far, so good. Then, by unlikely plotting, she meets and falls for evil mastermind, Lucy Diamond (Brewster), and decides to quit school for Lucy. But does the road of true love ever run smooth? This, unfortunately, is where the film goes off the rails entirely. While I've no problems with homosexual love stories – okay, especially where the protagonists are cute and female – Robinson abandons wit for a series of cliches, causing nothing but slow boredom. Originally a ten-minute short, it doesn't appear any additional ideas went into the script, meaning it's good for about ten minutes of fun. Logic is all but non-existent, even in the "ironic" D.E.B.S. world: for example, the teachers can teleport around, but at the end, are unable to get past a locked door.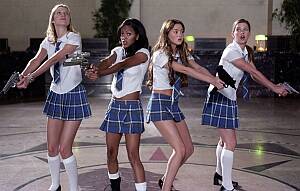 The action isn't too bad initially, with a sprightly shootout in a restaurant. However, that's your lot, save the "daring" lesbian angle. Though, being mainstream cinema, it's just a couple of clothes-on kisses, and bad, unconvincing romance is no fun, regardless of a character's orientation. This aspect is so po-faced and politically correct – it is, clearly, supposed to be taken Very Seriously – that proceedings come to a grinding halt, while what appears to be the director's iPod on shuffle plays as a witless soundtrack. Look! An Erasure song! How appropriate! 'Cos, y'know, they're gay. Kill me. Kill me now. Then bring me a copy of Naked Killer.
Dir: Angela Robinson
Star: Sara Foster, Jordana Brewster, Meagan Good, Jill Ritchie