"Two tentacles up! Well, one tentacle, at least."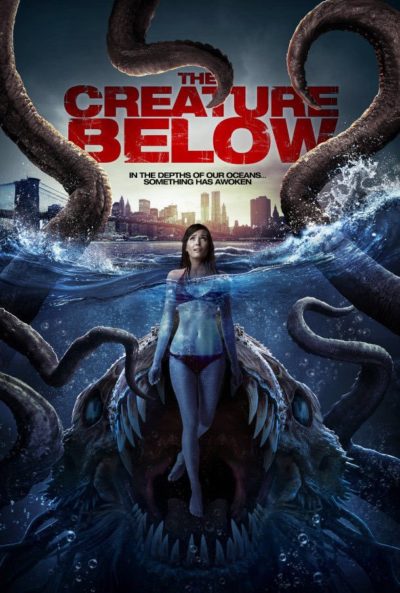 The mad scientist has been a staple of horror/SF for almost 200 years, since Victor Frankenstein first cranked up his machine. The worlds of literature and cinema have frequently returned to it since. A survey showed mad scientists or their creations to be the threat in 30% of horror films over a fifty-year period, and examples from one or other, include Dr. Moreau, Dr. Jekyll, Herbert West, and Rotwang in Metropolis. But they have been almost exclusively male: after Frankenstein, it was 75 years before any comparable female character existed, the title character in George Griffith's Olga Romanoff, from 1893. They have been rare ever since, with only the occasional entry such as Lady Frankenstein to break male domination.
This is another rare example, and what makes this movie particularly unusual, is the Lovecraftian overtones. While not based specifically on any of the works of H.P. Lovecraft, it is certainly set in the Cthulhu Mythos where his stories took place. Indeed, at one point, heroine Dr. Olive Crown (Dawson) hangs up her credentials from "Miskatonic University", the fictional establishment often referenced by Lovecraft. Yet Lovecraft wrote almost exclusively about men, to the point where female characters are notable by their absence. Here though, it's likely necessary, due to the maternal aspect of the storyline.
Dr. Crown is part of a deep-sea expedition, testing out a new underwater suit. A dive goes badly wrong, with Olive barely surviving, and being blamed for the accident, though she remembers very little of what happened. When checking the suit, she discovers an egg-like sac. Having already been fired, she smuggles it off the boat, and back to the basement of the house she shares with her boyfriend (Thrace). It hatches, and the creature begins a growing relationship with Olive, that's part-psychic, part-mental and almost all creepy. Especially after she discovers that human blood is about the only thing it will consume. Fortunately, there are no shortage of potential snacks to hand, including her former boss and her adulterous sister (Longden).
If you were to describe this as a cross between The Thing and Hellraiser, you'd not be far off. There's the creepy, tenticular monster of the former, as well as a soundtrack which is so close to John Carpenter's electronic minimalism as to invite a lawsuit. Meanwhile, you have the lurking horror behind suburban walls from the Clive Barker adaptation, with a seemingly nice young woman luring victims in, to feed her monster pal. Onto this combination, the film piles common Lovecraftian themes of growing insanity, against a backdrop of the "Old Gods" – once the object of cult devotion, these entities have not been destroyed, and are merely sleeping, waiting for their time to come again.
There are certainly a couple of mis-steps on the way, not least some horrendous CGI which is not needed at all – a painfully artificial shot of a ship sailing could easily have been skipped, and takes the viewer out of the mood entirely. The ending, similarly, goes at least one step (if not several) further than it needs to: this is one of those times when leaving things to the audience to fill in the blanks would have been a better bet. But the monster, in its various stages of growth, is impressively realized, especially given the obvious limitations of resources here. If falling short of the movies which it most closely imitates, those are some large, black boots to fill, and there's enough here of merit to provide a creepily decent pay-off for the viewer.
Dir: Stewart Sparke
Star: Anna Dawson, Daniel Thrace, Michaela Longden, Johnny Vivash