"Home invasion, English style"
Pippa (Lowe) is an international model whose career is ended after a car accident leaves her with a disfigured face. Her confidence shattered, she retreats to the safety of her apartment, not leaving it for any reason. But her stately isolation is disrupted by the arrival of Kayleigh (Bennett), an art thief who needs a place to hide out, and takes Pippa hostage while she waits for her accomplice, Henry (Allen), to show up. But when he does, Henry is knocked out and tied up too, as Kayleigh's hidden agenda becomes apparent: she has few, if any, moral scruples, and is using Henry just as much as she is using Pippa. But is there perhaps even more going on than it seems? Was Kayleigh's arrival in Pippa's apartment purely the stroke of bad luck it initially seemed?
There's something to be said of the claustrophobia generated by a confined setting: in some ways, this reminded me of 2LDK, though the adversaries here clearly have a different kind of relationship. The inability of the heroine here to leave adds an additional level of peril to the well-worn home invasion genre, perhaps making Audrey Hepburn's Wait Until Dark another influence, with Pippa's disabilities (which include OCD) standing in for blindness. Tobbell and cinematographer Eben Bolter seem aware of the potential limitations of their space, using a number of visual tricks to keep things interesting, such as overhead shots. While some work, it betrays an apparent lack of confidence in their material and its ability to retain the audience's engagement. Perhaps this is tied to their lead's inexperience as an actress – this was Lowe's feature debut, though her "day job" as a model certainly makes her not inappropriate for the role, and her performance is respectable enough.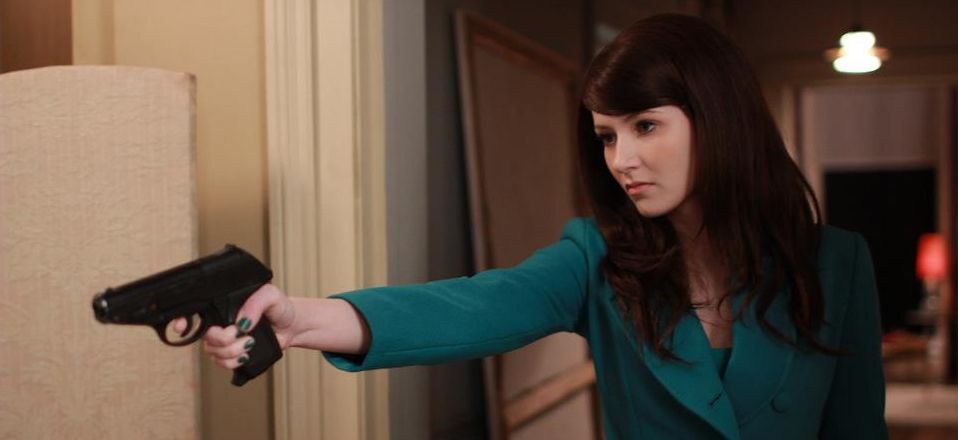 Bennett certainly has the more interesting role, with Kayleigh's background as much a mystery as her goals: is she genuinely the Sloane Ranger robber she seems? I can't say I was ever convinced by her character, though it is still much more developed than Henry, who exists almost solely so he can be tied up and abused (between this and Theon Greyjoy from Game of Thrones, it seems torture is a requirement for Allen's contract). The main problem, however, is a script which consists almost entirely of contrivance: people behave in a way necessary for the script to progress, and which doesn't make much sense on any other basis. There's one obvious signpost pointing toward how this will end, so when this comes to pass, it provokes less shock and more of a casual shrug. Maybe it's all just too Britishly polite for its own damn good.
Dir: Tobias Tobbell
Star: Daisy Lowe, Eliza Bennett, Alfie Allen