"The godmother of blaxploitation's debut in the field."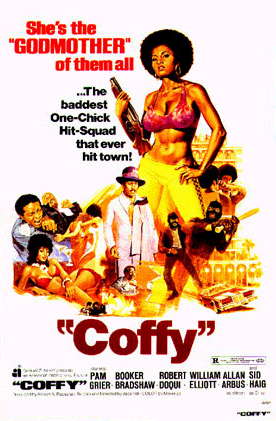 Neither star Grier nor director Hill were exactly strangers to the world of exploitation when they made this, but their combination here created a whole new subgenre, crossing action heroineism with black cinema. Following her would come Foxy Brown, Cleopatra Jones and the rest, but let it be said, Coffy was the first of any significance.
It's a robust tale – or at least one reused frequently since with minor changes. Nurse Coffy (Grier) goes after those she sees as responsible for leaving her kid sister a drug-addled vegetable, be they low-level pusher, high-level supplier or the politician in cahoots, who just happens to be her lover. There's no hanging round here; almost before the credits have finished, we get someone's head being blown off with a shotgun, and Hill brings a hugely gleeful air to the violence. This is perhaps exemplified best by a marvellous and justifiably classic catfight in which Coffy, razorblades hidden in her hair, takes apart an entire escort agency's worth of hookers.
Dramatically, it's less successful, with neither the supporting characters nor the plot holding your interest. It often borders on the painfully obvious; when her cop friend turns down a bribe, you just know he's going to end up hooked to one of those hospital machines that goes "Beep", and inside five minutes, yep, there he is. Beep. He then vanishes from the film shortly thereafter, though it's never clear whether he dies or not. At least this does mean we don't get the even more painfully cliched "flowers on the grave" sequence. But as a Pam Grier vehicle, it's fine, and if little more than a vehicle for sex 'n' violence, with questionable morality and a hackneyed storyline, it is at least done enthusiastically enough to pull you along with it.
Dir: Jack Hill
Star: Pam Grier, Booker Bradshaw, Robert Doqui, William Elliott