"Too little, too late."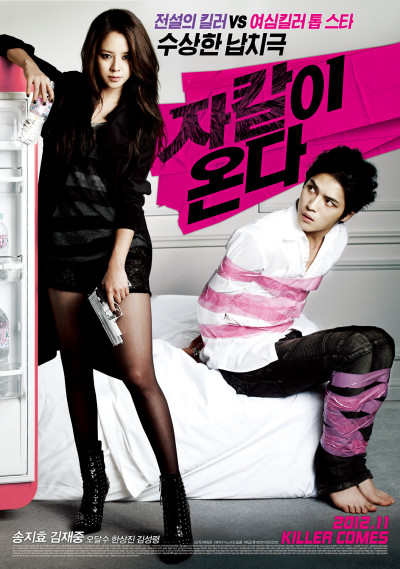 For years, an assassin known as "Jackal", has eluded all efforts at capture, taking out targets before vanishing without trace. However, it seems that retirement is close, when a note is found, apparently left by the killer. This indicates that they are tired of the chase, and will be in a town's low-rent hotel, waiting for the police. The cop (Han) who has been hunting Jackal is, understandably, wary and suspects a trick, but sets up a stakeout in the hotel to see what unfolds. However, already in one of the rooms there is K-Pop superstar Choi Hyun (Kim)., who had been hoping to hide out for a bit of peace and quite, only to be kidnapped by a rookie killer (Song), hired by his jilted lover. She's apparently not very good at her job, especially after Choi convinces her he isn't actually the star, but a celebrity lookalike. Meanwhile, a local cop (Oh) has been drafted in to help with the stakeout, and the hotel staff are proving rather less than helpful, treating the stakeout as a bonus cash-cow to be milked, rather than a chance to help the authorities.
For much of its running time, there is a great deal of sitting in hotel rooms, alternating with scenes of creeping about around corridors. The overall feel is more like a Korean take on British farce, and I sense a good deal of cultural stuff may fly over Western viewers' heads – for instance, Kim actually is a K-Pop superstar, so issues like obsessed fans and record company executives with ulterior motives probably have particular resonance. It's just too static to work, concentrating for spells on the burgeoning relationship between novice killer and her victim, then drifting off to the cops and their surveillance operation. What should be the key question – who is the Jackal, and what is their plan? – seems to be all but forgotten until the very end of the film. This is a shame, because this is both interesting and well-considered. Unfortunately, the overall impact is largely to make you wish it had shown up about an hour earlier, with the film developing forward from there with similar energy.
The performances aren't bad, and there are occasional moments that are genuinely funny. For instance, the police disguise themselves as hotel cleaners so they can check rooms, only for the real employee to insist they actually do the cleaning. But these are only sporadic at best, and the script is generally so weak, in terms both of setting up the central storyline and executing it, that the final 10 minutes aren't enough to salvage proceedings. You get the sense that a prequel, or a sequel, covering the Jackal's exploits before or after this particular incident, would have been more interesting.
Dir: Bae Hyeong Jun
Star: Song Ji Hyo, Kim Jaejoong, Han Sang Jin, Oh Dal-su