"After the apocalypse, crop tops will fortunately not be in short supply."
When Hercules: The Legendary Journeys ended its run in January 2000, producers Renaissance Pictures looked to replace it, but instead of going with another hour-long show to follow the hit Xena, took the unusual step of making two, 30-minute action series. This was a break from normal practice: half-hour comedies were standard, but for shows like these, it was a format which had not been seen since the seventies. The second was Jack of All Trades, starring Bruce Campbell as Jack Stiles, a wisecracking spy for the US at the turn of the 19th century. The first was radically different: a SF saga, set 500+ years into the future, when robots have driven humanity, literally, underground.
Waking up here is Cleopatra (Sky), a 21st-century exotic dancer who got frozen after a boob-job went wrong. She's rescued by Hel (Torres, who'd go on to cult stardom in Firefly) and Sarge (Pratt), part of a team fighting the robots, which are known as 'Baileys', their human-imitating agents called 'Betrayers,' and dealing with the anarchic and dangerous life beneath the surface, guided by a voice in Hel's head, that organizes the anti-Bailey resistance. [In the original pilot, that voice was Lucy Lawless, but she ended up being replaced by Elizabeth Hawthorne] Cleo gradually becomes part of the team, being the viewers' voice in the dystopia of 26th-century life, while Hel and Sarge represent the brains and brawn of the team.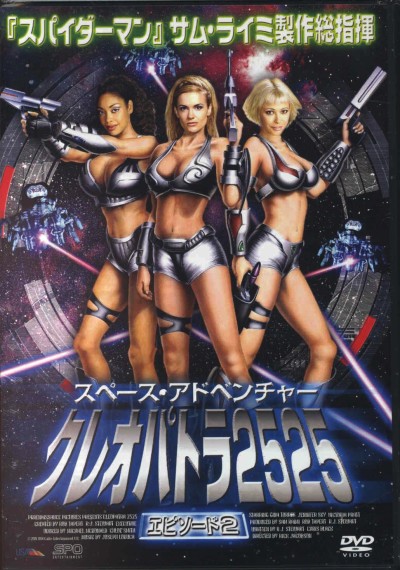 All three, however, were clearly selected as much for their visual appeal, and the 25th century is not short of beautiful people – it's also quite warm, going by the ah, flimsy clothing worn by the trio. Cleo and her former profession fit right in. But taking any of this seriously would largely be doing the show a disservice, because it's clear it doesn't take itself seriously. There isn't really time for that kind of thing, with each episode barely 20 minutes, excluding opening (theme song sung by Torres, a funked-up and lyrically altered version of Zager and Evans' one-hit wonder, In the Year 2525) and closing credits. There isn't much time for anything, in fact: both characterization and plotting remain about as scanty as the outfits. Hel is thoughtful but can be distant; Sarge likes shooting things first and asking questions later; Cleo, to be honest, is mostly irritating, coming over as both whiny and rather vacuous.
At least in the first series, the storylines don't focus on the Baileys as much as I remembered. The heroic trio also find themselves taking on evil clown Creegan, against whom Hel has a personal grudge (for good reason), or psychic Raina, who can not just read your mind, but implant suggestions in it. The latter was a personal favourite villainess, played by Danielle Cormack, who is a veteran from Xena, having played Amazon Ephiny there. That's true for much of the cast: Sky read for the part of Gabrielle, but also ended up playing another character, Amarice, while Pratt was Cyanne, the Queen of the Northern Amazons. Torres was on the show too, though not as an Amazon. Perhaps more confusingly though, she played Cleopatra – the Egyptian version, not the stripper one.  There's also a considerable overlap of directors who worked on both shows.
Cleopatra is generally more consistent in tone: that may not necessarily be a good thing, as one of the joys of Xena was seeing it swing from mass crucifixions to musical numbers. It does make Cleo less suitable for binge watching, because the episodes exhibit a certain sameness that grows somewhat repetitive after a while: three was about my personal limit, so not much more than an hour, before the titular heroine started to grate on my nerves. But in the show's defense, it wasn't created to be viewed like that, and in 20 minute chunks, generally manages to be energetic and action-packed entertainment. Outside of the Raina episodes mentioned earlier, I particularly enjoyed Run Cleo Run, a take on one of my most beloved films, Run Lola Run, that somehow manages to be even more hyperkinetic than the original – though with a less kick-ass soundtrack.
Star: Jennifer Sky, Gina Torres, Victoria Pratt