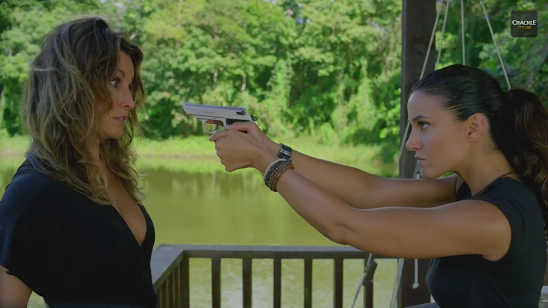 We loved the first season of Cleaners, Crackle's series focusing on hitwomen Emmanuelle Chriqui and Emily Osment, their efforts to escape the relentless pursuit of their employer (Gina Gershon), and untangle a plot involving an autistic child and $50+ million in loot. It was fast-paced, brutal, and full of entertaining characters on both sides, as well as being largely unlike anything else currently on television. The good news is, a second season was commissioned, with all the main names returning [well, those that survived the bloody finale of the first series!], and that hits streaming service Crackle and its partners on August 19. According to Variety:
Season two of "Cleaners" is set on a small Caribbean island where Veronica (Chriqui) and Roxie (Osment) think they are about to cash in, just to realize they have not escaped their past. The duo arrange to meet Eileen (Missi Pyle) to split a $57 million take, but she has teamed up with "Mother" (Gershon) to have the girls "erased." Meanwhile, FBI agent Frank Barnes (David Arquette) is recruited by a CIA agent (David Rees Snell of "Last Resort") for an off-book mission. "The second season looks bigger and badder than the first," said Chriqui. "Shooting it felt more like a film set than a television set." The "Cleaners" second season was filmed on location in Puerto Rico. Chirqui said that "changed the look of the show" from the first season, which was shot in Los Angeles.
This series has been expanded from six to twelve episodes, and should even be worth sitting through commercials which you can't fast-forward. Here's the trailer for season two; expect a review here, whenever we manage to clear the decks for a spot of binge-watching!