"Holidays in the Sun: Sex and Pistols."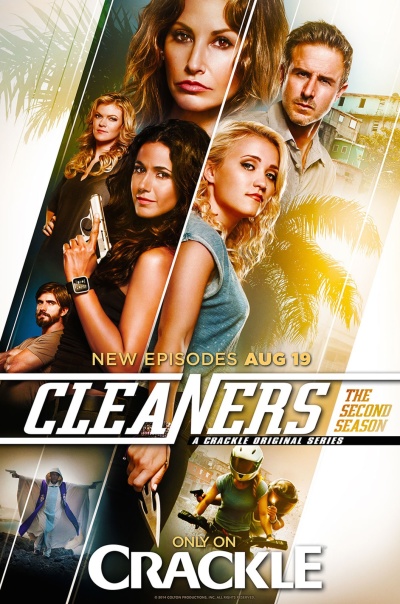 While twice as long as the first series, at 12 episodes rather than six, I can't say it's actually any better. Indeed, I think the dilution of the main element which was so much fun the first time round – the relationship between the two, disparate hitwomen, Roxie (Osment) and Veronica (Chriqui) – leaves this season less entertaining. Yes, it's bigger and more exotic: but it feels spread thinner, to the detriment of the core aspects. The story takes up shortly after the events of the first series, with V+R in the Caribbean, waiting to get their share of the money from Eileen (Missi Pyle) and Mother (Gershon). But instead, an assassination squad is sent to get them, kicking off a reunion with Veronica's "parents", a deranged killer who thinks Roxie is his dead wife, a rogue CIA operative who sends Frank Barnes (Arquette) after Mother, and so on. It builds to a climax where Veronica, previously injected with a lethal nanobot virus that's about to go off, takes part in an underground death match at a cockfighting arena, to prove her love for the deranged killer. I shit you not.
It's nice everyone from the first season apparently wanted to come back. But it wasn't necessarily in the show's best interests, especially with all the other angles being thrown in. Eileen, in particular, is entirely superfluous, adding nothing to the plot but occupying an inordinate amount of screen-time, which could have been better used, say, on better developing the thread of Veronica's background. Much the same goes for Barnes, who is shoe-horned back into the plot, through frankly implausible circumstances because… I dunno, because Arquette fancied a vacation in Puerto Rico? It's a shame, because some of the other stuff is potentially interesting. Discovering Veronica was brought up, almost from birth, to be a trained killer (perhaps inspired by Naked Weapon), was an intriguing concept, and I'd like to have seen more of that, rather than Eileen's party girl antics. The most interesting new character of note is Mathilda, the last pupil at Veronica's alma mater, who looks not unlike Uma Thurman, though the name would appear a nod to Leon. She provides a quiet, but no less-lethal, counterpoint to Roxie's mania, and allows for a few Charlie's Angels-esque riffs.
The action remains plentiful, as Roxie and Veronica are tasked with bringing down a local drug-lord, as well as dealing with the killer on their trail, and it's a show that's easy to binge watch [you can do so at Crackle.com, and it's probably better there than through a device like Apple TV, which inflicts unskippable commercials, that get very old the tenth time you see them]. I'm sure everyone had a fabulous time making this; however, for me, it didn't capture overall the same spirit, of not giving a damn, that made the first such an enjoyable surprise. It probably comes over as more self-indulgent than anything else – but still kicks ass harder than just about any other action heroine show this year.
Dir: Paul Leyden
Star: Emmanuelle Chriqui, Emily Osment, David Arquette, Gina Gershon