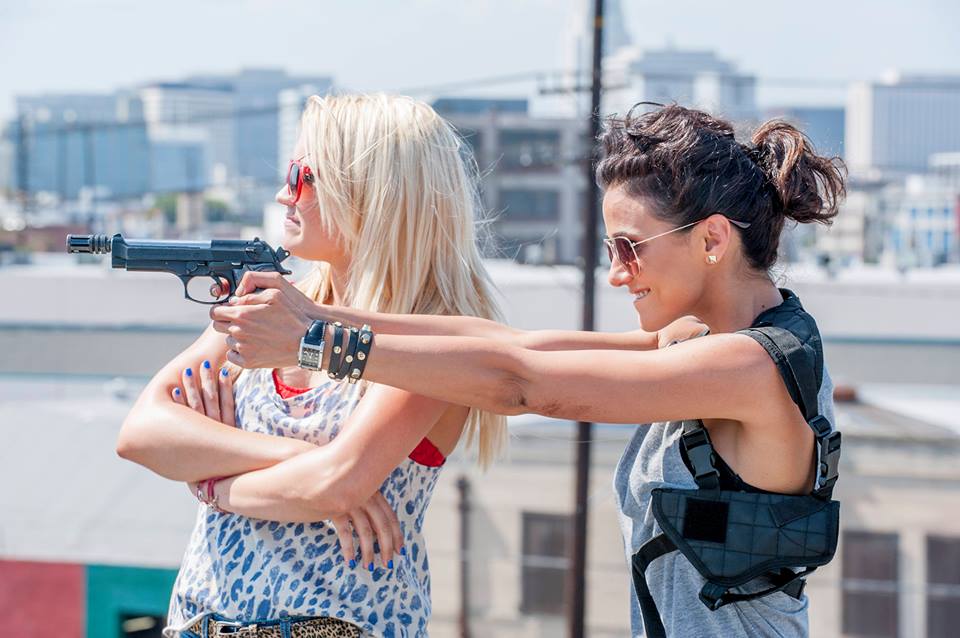 "Girls, guns and cars. Well, one car, anyway…"

Crackle is the streaming content subsidiary of Sony – it has been around for a while, but we only became aware of it last December, when a new widget popped up on our Apple TV. Think of it as a little like an advert-supported version of Netflix; you can watch for free, whenever you want, but you have to "pay" by sitting through commercials (during which the FF option on your remote is disabled. Bastards!). The library of movies and shows offered is based around that studio's library, and has a number of entries for action heroine fans. Bonus points, not just for having Run Lola Run, but in the subtitled version; they also have Ultraviolet: Code 044, the anime spin-off from Milla Jovovich's action-horror film, though that is only available dubbed. We'll get to that later, I imagine, but the first thing to leap out at us was this original series, about a pair of female assassins. It's certainly not to be confused with the Samuel L. Jackson movie or Benjamin Brett show.
The two heroines are Veronica (Chriqui) and Roxie (Osment, straying far from her Hannah Montana roots). Both are hit-women, working for "Mother" (Gershon), but that's about all they have in common: Veronica is serious and almost OCD about her work, while the much younger Roxie is a party animal who shoots first and asks questions… Well, almost never. Mother insists they work together on this case, much to both their chagrin. This particular mission involves the repossession of a classic car from its current thuggish owners. The car is then to be driven to Point B, without stopping for any reason. Naturally, that doesn't quite work out, and they discover an autistic boy, unconscious in the trunk. Turns out, locked in his brain is the key to $57 million dollars. Mother wants him. His dad, currently serving 20 years, wants him. FBI agent Barnes (Arquette) wants him. His mother (Missi Pyle) wants him. Now, they all have to go through Veronica and Roxie to get him.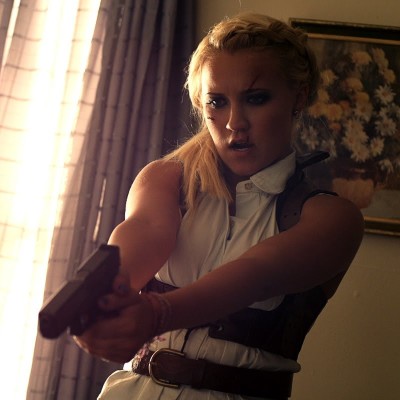 There are six episodes, but they're barely 20 minutes each, discounting adverts, and by the time you remove the credits, and "previously/next time on Cleaners" sections, it's basically a single feature. Maybe I'll get round to editing it together in exactly that fashion. There's a hint of Tarantino in the fast-paced dialogue, as the characters snark back and forth at each other – my favourite line was Roxie's response, after Veronica had expounded on some topic: "Jesus! What did you have for breakfast? Wikipedia?" Leyden throws on large helpings of style, which is something of an acquired taste: in the first episode, it seemed more of a chore than a pleasure, but as the show wore on, he either restrained himself better or we grew used to it.
The episodic approach doesn't leave much opportunity to pause for breath, each part having to fit in advancing the storyline, developing the characters and, typically, an action set-piece, involving guns or hand-to-hand combat. For instance, the first episode has Roxie tricking her way into the thugs' house, and opening the back door so Veronica can join her for a full-out assault. It's a structure which makes for a copious volume of action overall, and these are both well-shot and assembled – the art of editing fight sequences is something I think is often overlooked. It looks like Chriqui and Osment both handled more of their own work than I'd have expected, though credit should also go to Osment's stunt double, Mandy Kowalski.
However, it's the characters which engage the viewer and keep them coming back for more. The two leads have a nice chemistry, bouncing off each other, and there's a real sense of development as the show progresses. Initially, the pairing feels like Grumpy Cat being forced to socialize with an energetic puppy, but they both come to appreciate the other's strengths, and the marginal tolerance becomes more based on respect. It's a similar dynamic to the one we saw in Violet & Daisy, almost a big/little sister relationship. I do have some doubts about the plotting, which has too many convenient coincidences to be convincing. For instance, I sense that any such series of events with the massive body-count depicted here, would get a lot more traction than the solitary FBI agent who appears to be on their trail. However, this never destroys the energetic, pulpy and B-movie feel which permeates proceedings, and by the time the sixth episode finished (in a hail of gunfire, naturally), we were sad to discover, that was all there was.
For now, anyway. Because, the good news is, another series has been commissioned, and started shooting in January, so will hopefully be out later this year. I say "hopefully," since Sony abruptly shut down Crackle in the United Kingdom at the start of last month. Fingers crossed that this isn't an indication of wider problems for the company, because this is definitely a show that deserves a wider audience. You can watch the show online at crackle.com; it was apparently also released on DVD through RedBox, but a quick search of Ebay failed to locate a single copy. [Plenty of the Jackson/Brett versions….]
Dir: Paul Leyden
Star: Emmanuelle Chriqui, Emily Osment, David Arquette, Gina Gershon