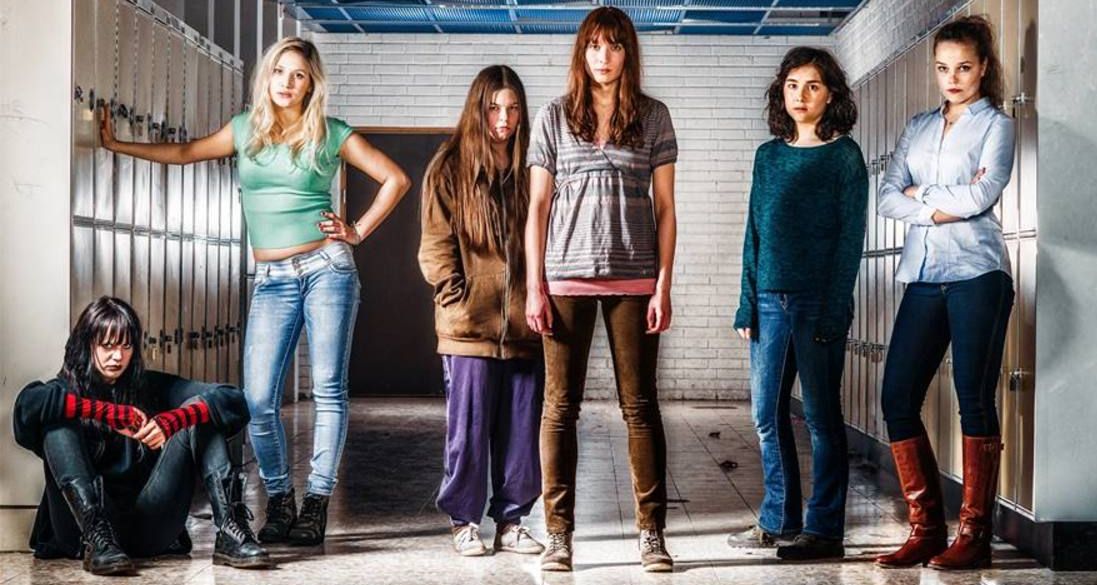 "Into every generation, half a dozen or so chosen ones are born…"
The first in an intended trilogy, based on a popular series of books, this is set in the fictional Swedish town of Engelsfors, where the high-school is rocked after a student commits suicide in the bathroom. At the same point, six female students start to experience strange events, hinting at undiscovered powers: one can move objects with her mind, another can influence people, a third becomes invisible. Turns out they – as well as the dead colleague – are proto-witches, one of whom will eventually develop into the Chosen One, who will save the world from her evil nemesis. However, said nemesis is not sitting around, waiting for thus development: that "suicide" wasn't a suicide at all, and it becomes clear the remaining six are just as much in danger.
This starts off in highly-impressive fashion, setting up its premise with elegant style. The film looks great, makes excellent use of music, both original and adopted (the soundtrack is by Benny Andersson of ABBA fame, who is also one of the producers, and there's a particular cool montage set to Kate Bush's Running Up That Hill), and the special effects are nicely understates: director Akin doesn't throw them at the screen for the sake of it, he uses them to enhance the film's atmosphere as much as for show. However, the second half feels unnecessarily stretched: this runs 144 minutes, and probably shouldn't. Perhaps the process of adaptation from the book needed to be more ruthless; you get the sense the film is trying to juggle too many characters, simply because they were in the original source material. As a result, they all suffer since, even at its significant length, the film doesn't have the chance to explore them in any depth: they remain not much more than stereotypes, e.g. the Goth, the slut, the bullied, the swot. Maybe they are leaving this for the subsequent entries?
However, it works well enough as a standalone movie – more Harry Potter than Lord of the Rings – and still continues to provide a sleek and shiny source of mainstream entertainment. There's more than a hint of Buffy here, and not just in the "Chosen One" concept and high-school location, also the idea that Engelsfors is some kind of Hellmou… er, portal for evil, as well the Witches' Council who try to run things. As yet, neither of these last two aspects have been explored much, and I sense they will likely come into play more, down the road. I also got a distinct hint of Eko Eko Azarak too. It's probably true to say that you may get more out of this if you have read the books, which I haven't; I suspect a remake is only a matter of time, likely bringing nothing of note to the party. Bit of a mixed blessing to see countries attempt to ape Hollywood so shamelessly: I can't help preferring films like Let the Right One In, which do their own thing. This is perhaps just too slickly commercial for its own good.
Dir: Levan Akin
Star: Josefin Asplund, Helena Engström, Ruth Vega Fernandez, Irma von Platen