"Contains 100% of your daily requirement of eye-candy."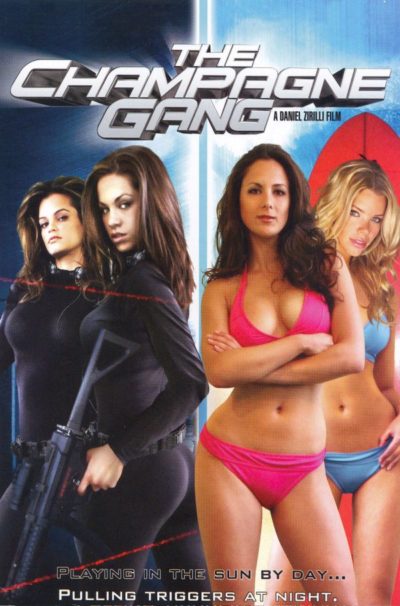 Under the leadership of Bliss (Toups), whose father is serving an extended stretch in jail, four young women stage a series of convenience-store burglaries in the San Diego area, before moving up to larger schemes. This brings them to the attention of local crime-boss, Cal Wertlieb, who makes them an offer they can't refuse. He'll train them to carry out more lucrative jobs, by cracking safes, which will give them access to cash and other easily fungible loot, in exchange for a cut of the proceeds – and their absolute silence in the event of them ever being caught by the authorities.
It opens with the "based on a true story" title, which as usual had me raising a sardonic eyebrow. However, in this case, it appears to be at least somewhat accurate, even if the end credits admit that the real "champagne gang" were Canadian men, rather than California girls! Still, I'm not inclined to criticize writer-diretor-producer Zirilli too much, for taking the more photogenic route. The film is at its best when it's a lawbreaking version of the 'police procedural', i.e. instead of explaining how crimes are investigated, covering the nuts and bolts of how the group pulled off their thefts. These little details here bring the film to life, and help to keep it grounded in reality. That's something sorely needed, given Zirilli's horrid over-fondness for irrelevances, such as the make-over, the surfing montage, or the cringeworthy concert with a cameo by Bokeem Woodbine.
The film does make some effort at making the girls individuals, even if outside of Bliss, this largely consists of giving the other three a single-word character. Thus, we have Nerdy Michelle (Lakota), Bimbo Erika (Tobiason) and Bitchy Amanda (Serano), but I guess there was a conscious decision to sacrifice further character development, on the altar of that surfing montage. Shallow though these are, it does help set up the plot, with Erika tending to ill-considered actions which bring heat in their wake, such as contacting her boyfriend when they're supposed to be laying low. There are also occasional moments of nice self-deprecation, such as when Bliss explains their aesthetic choice of footwear on their raids: "We really should have been wearing sensible shoes for the climbing. But we knew we could do it in high-heeled boots. After all – we're girls."
Unfortunately, the decent aspects tend to accentuate the copious quantities of padding necessary to get from the set-up to the conclusion, where the cops finally realize they're not chasing a male gang. Zirilli the director should have gone back to Zirilli the writer, and demanded he put more meat on the bones, of a script that has flashes of some potential. Outside of Bliss, there's not even a fragment of motivation for anyone involved, and you're left watching something which too often drifts into being not much more substantial than an elaborate pop promo.
Dir: Daniel Zirilli
Star: Lacey Toups, Candise Lakota, Tarah Tobiason, Suri Serano
The whole movie is on YouTube, if the trailer below whets your interest.