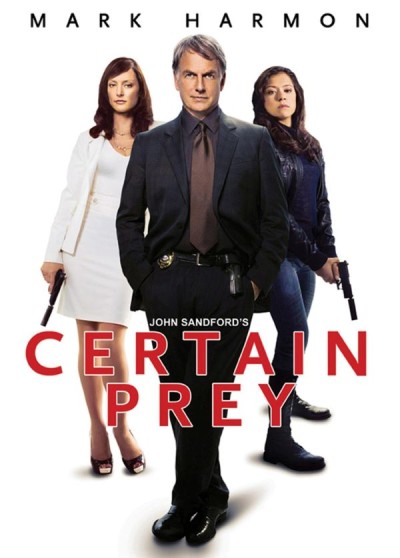 This tenth novel in Sandford's popular Lucas Davenport series was my first experience with his work. Usually, I prefer to read a series in order, but this installment can be read just as well out of sequence. Series sleuth Lucas Davenport, a Minneapolis homicide detective (who, by the time of this novel, is actually a deputy police chief) isn't really the protagonist here; structurally, at least for much of the book, the two pistol-packing female villains are really the co-protagonists, and Davenport the antagonist (albeit one who's on the side of good). And although I classified it as a mystery, the who-done-it, why and how of the contract killing here isn't a mystery to the reader; we're shown the personae, planning, and execution (literally) of the crime at the outset. The element of detection is in seeing how the forces of justice will prove what we already know. And this time, it won't be easy.
On the plus side, Sandford does a very effective job of creating a really involving, page-turning read, with excellent plotting that throws curves into the story which you often don't see coming, but which are completely logical outgrowths of the situation and never forced. He hooked me early and hard, to the point where I knew I would finish the book no matter what; and while the adjectives "thriller" and "pulse-pounding" are advertising hype, there genuinely are places with a good deal of suspense and tension here. (Readers familiar with the Twin Cities would probably also say that he does a good job of incorporating their real-life geography into the book; but though I was born in Minneapolis, I wasn't raised there and have hardly ever been back, so that element was pretty much lost on me.)
His other outstanding feat here is the sheer virtuosity with which he creates professional hit woman Clara Rinker and her employer, millionaire criminal-defense attorney Carmel Loan, who's hired the former to kill the wife of a fellow lawyer for whom she's in lust. In keeping with the necessities of a good mystery plot, they're very worthy opponents for any detective. They're both smart, cunning, and pretty ruthless (Carmel totally so); Clara's had years of practice covering her tracks, having started killing for hire when she was 16, while Carmel knows rules of evidence and police procedure from the inside and her wealth and political connections make her almost untouchable.
Obviously, neither of these women are one bit likable as characters (a likable villain is pretty much an oxymoron, anyway). "Don't worry, I'm just a sociopath. Like you. I'm not a psychopath or anything," Carmel assures Clara at one point, but her claim to the contrary, she's both: she not only has a fixed determination to have anything she wants when she wants it, regardless of how much harm she has to do to anybody else in the process, but she derives a warped excitement and enjoyment from inflicting pain and death. Clara doesn't, as such; for her, killing is just a good-paying job, and some of Carmel's actions bother even her. But she's almost (though not quite) without a conscience or normal human empathy, like one of Philip K. Dick's androids. But both are fully alive, vital, three-dimensional and understandable as characters, and come across as (very flawed) human beings, not just cardboard incarnations of evil –though they are both evil, in their different ways, or capable of doing very evil things. And they're strong, dominating, formidable characters, who hold your full attention and stay in your memory; like all well-drawn villains, they fascinate, in various ways and at various psychological levels. Sandford also excels at depicting the nuanced, fragile bond that grows between the pair, whose misguided life choices and defective personalities have prevented them from ever knowing real friendship, though there's a buried part of their psyches that's starving for it.
Grading just on the strength of his plotting and sharp characterizations of these two women, I'd give Sandford four or five stars here. There are negatives to the book, though, that drag its rating down. I don't expect villains to be likable; but very few of the characters here are particularly so, including Davenport. Many aren't drawn in enough depth to be either likable or unlikable, as if the author exhausted his resources on his protagonists. We don't even get much sense of knowing Davenport from the inside, though Sandford does bring out his phobia of flying in planes, and his liking for escaping job stress by fishing in the North Woods. (Of course, his character is probably developed more in the earlier novels of the series.) He has some unappealing traits, though, including a willingness to cut corners on legal restraints (he was temporarily kicked off the force for brutality some years before). I also don't think he's outstanding as a detective –he can be intuitive, and has a good memory for details, but he often doesn't recognize verbal clues or faces until long after the optimum time for doing so has passed, and he blabs one detail of the investigation to a civilian in a way that even I (with no police training!) recognized as really irresponsible. I got enough entertainment out of the book that I don't regret reading it, and it earned its stars fairly. But there are other heroes in the genre that I find more congenial than Davenport, and I always prefer action heroines over action villainesses.
Note: There's a lot of bad language here, including a hefty seasoning of obscenities. There's no explicit sex, but a number of the characters also have (and demonstrate) coarse sexual attitudes.
Author: John Sandford
Publisher: Berkley, available through Amazon in all formats.
A version of this review previously appeared on Goodreads.