"All teeth and claws."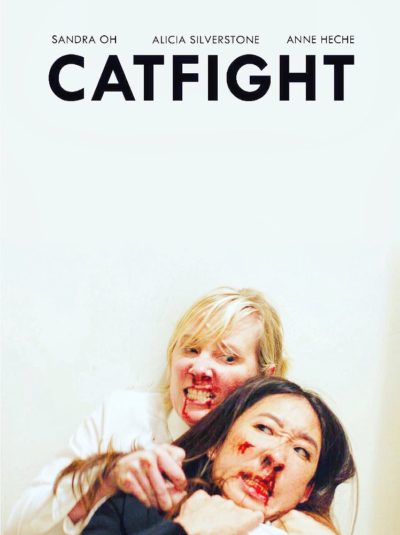 My wife is a big fan of Sandra Oh, for her long-time work on soapy medical drama, Grey's Anatomy. This is about as far from that as imaginable. It's a gloriously mean-spirited "comedy" [and I used the quotes out of reverence, not in a bad way], which combines social satire with gleeful hyper-violence, at a level where you would not expect to find serious actresses. Veronica (Oh) and Ashley (Heche) knew each other in college, and have since grown apart. Veronica is now wife to a defense contractor; Ashley a largely unsuccessful artist. They meet at a birthday party, and instantly the hate begins, each representing everything the other finds reprehensible. The night ends in a stairwell brawl, which leaves Veronica in a coma for two years. She awakens, to discover she has lost everything, and Ashley is now on top, enjoying commercial and critical success.
But things are only just getting started.
This is cinematic schadenfreude: watching two thoroughly unpleasant and entitled people lose it all, and take it out on each other. The three-act structure here has each act culminate in a ferocious bout of fisticuffs, whose only point of comparison would be the Roddy Piper/Keith David fight from They Live. It is, equally as much, entirely over-the-top and deliberately so, not least for being backed by classical music e.g. The Stars and Stripes Forever or even Beethoven's Fifth Symphony. Particular credit goes to the sound design crew, who really go to town, with the blows having so much impact, it feels as if the punches are being launched from a missile silo in Wyoming. You'll certainly come away with a new appreciation for the art of foley.
It's nicely even-handed in its cynical view: most films would be inclined to come down on the side of one or other protagonist, but here, any bias is more likely to reflect the viewer's point of view. Personally, I though Oh hit it out of the park with her performance: she has a great face, capable of conveying a wealth of emotion with a look. Though no, darling: I still won't watch Grey's. [Bonus points to Chris, as she did notice the hospital in which Veronica wakes up is called Mercy General, a name likely chosen as a nod to the rival hospital in the show, Mercy West.] But it is undeniably a two-hander, with credit due to both: the whole is greater than the sum of its parts, and in that, I was occasionally reminded of a more brutal version of Whatever Happened to Baby Jane?
Credit is particularly due for the ending, where I felt certain the movie was going to cop out, delivering a sappy "kiss and make up" conclusion. There would probably be hugs, it would be utterly at odds with the acid venom of the previous 90 minutes, and I'd walk away disappointed. I'm delighted to say I was entirely wrong, and the ending fits the film perfectly. This is an ugly, guilty pleasure: yet, a pleasure it undeniably is.
Dir: Onur Tukel
Star: Sandra Oh, Anne Heche, Alicia Silverstone, Ariel Kavoussi