"Alias kicks back with a martini and some valium."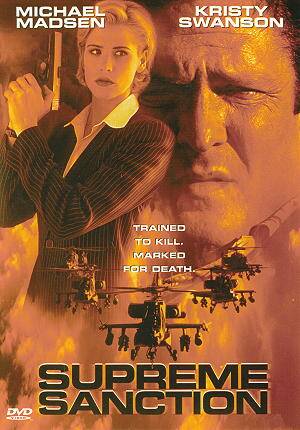 Director Terlesky starred in one of my favourite guilty pleasures, Deathstalker II, but this shows he still has much to learn about directing and, particularly, scripting. There just isn't enough going on here to sustain attention, with too many scenes taking twice as long as necessary. Swanson plays Jenna, assassin for a government counter-terrorist agency which is now creating incidents in order to get increased funding. She switches sides and protects TV journalist Jordan McNamara (Dukes), whom she has been ordered to kill – her handler Dalton (Madsen) must now take her out.
Subsequent events have given this 1999 film a creepily prescient air, and I'm always up for a good conspiracy. But neither Swanson nor Madsen ever provide the necessary energy, which we know the latter at least can deliver (though he gets the best moment, shooting the journalist, then offering him a BandAid). Faison makes a mark as Marcus, Jenna's gadget man who avoids the usual stereotypes, but Dukes is so irritatingly whiny, it's hard to see why Jenna chose to save him.
There are moments proving the ideas have potential, such as Jenna and Marcus disguising themselves to penetrate the enemies' base. More of this invention would have helped enliven what is instead just marginally acceptable entertainment. The climax also relies on chief villain Ron Perlman willingly confessing all to his "helpless" captive. Guess he must never have seen any Bond films.
Dir: John Terlesky
Star: Kristy Swanson, Michael Madsen, David Dukes, Donald Adeosun Faison