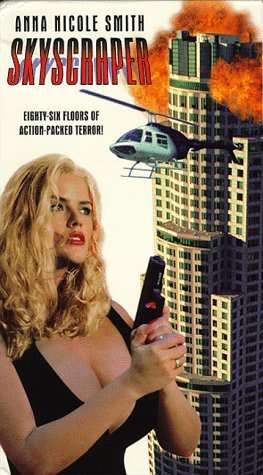 The obvious point of comparison for Smith would be Pamela Anderson, another Playboy playmate who moved into films of doubtful quality, but any such comparison would be unfair. To Anderson, that is, who given the right role, is not actually too bad. With Smith, you get the feeling she simply has no talent, and any character would be a stretch, let alone the Shakespeare-aware, ace helicopter pilot and crackshot she is supposed to portray in this shameless Die Hard clone.
She is trapped in a tower block by a bunch of criminals who are after a computer chip which…er, well they never actually say what it does, but they clearly want it bad. Just like Brooce, she's bickering with her other half, a police officer – "I wanna have a baby," she whines, not long after the immortal line, "Well, excuse me for still believing in Sunday walks in the park and little babies." It was at this point, that my sympathy for her character made its excuses and left.
Other points of similarity with McTiernan's classic action film:
Hero/ine crashes in through a plate glass window, half-way up the building.
Slimy worker tries to cut a deal with the terrorists, only to get a fatal come-uppance.
Bad guys are largely European types – though in Skyscraper they look pretty gay, too.
When in motion, the general execution is not so bad, and the first of these probably provides the film's best sequence, as Smith leaps onto a window-washer's cradle, and dangles from a cable, trying to avoid gunfire from the rooftop. Not brilliant, I admit, but compared to much of the rest of the movie, it stands out as tense and well-staged.
The script and the acting sink this one early, and it's damned further any time Smith opens her mouth. The chief villain – associate producer Hubner – quotes Shakespeare badly, mixing in the odd Biblical quote for good measure: his performance is mercilessly skewered in one review which includes a highly amusing parody of his style. Another article, now sadly lost, spent half its time detailing a Saturday night search for a copy of the video. The other supporting characters such as the cowardly security guard are, at best, good ideas badly implemented, and at worst, pointless wastes of space (who are probably also associate producers – there's a coincidence!).
Smith whips 'em out four times: one shower scene, two consensual sex scenes (one as a flashback, while she's right in the middle of evading the terrorists!), and one rape – the last of these might actually have some vague relevance to the storyline, but the others certainly don't. Her attempt at any kind of action are ultra-lame as well, presumably out of fear that any kind of sudden motion could rupture an implant. She might have been better served by trying to smother the terrorists, Double Agent 73 style.
It's easy to imagine the pitch for this one: "It'll be Die Hard with tits!" Given the vast number of other clones in that style made before and since, such an endeavour was probably inevitable – and in the right hands, or at least with the right leading lady, might have had some potential. Instead, the main reason to watch this is for some cheap laughs at the most woeful acting performance since the early days of Pia Zadora. Bad movie fans will likely love it; everyone else should stay clear.
Dir: Raymond Martino
Stars: Anna Nicole Smith, Charles M. Huber, Richard Steinmetz, Branko Cikatic