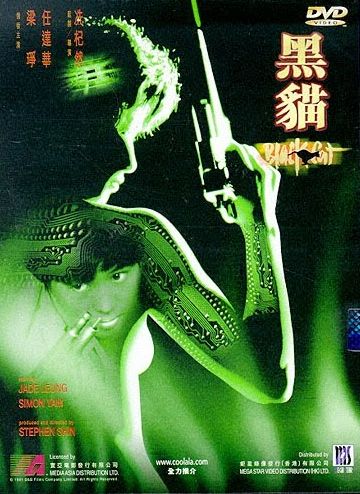 Before the official remake of Nikita came out, Hong Kong had already delivered its take on the matter. The film starts in New York, and a large part of this is in English, though the acting there is so woeful as to make you lean towards the Chinese dubbed version. The heroine, Erica, is made more sympathetic: while she still kills a cop, she's not a junkie, and is "shot" while trying to escape. She wakes up under the watchful eye of Simon Yam, in the "Uncle Bob" role (though here, he's a 'cousin').
From here, the plot is similar to Nikita – missions, qualms, romance, escape attempt, etc – and interestingly, her boyfriend (Thomas Lam) is a photographer, an idea also used in the later Point. There are, however, significant differences in the details. For example, Erica has a chip implanted in her brain, supposedly, to help her achieve her full potential, but all it seems to do is give her raging headaches [admittedly, a potentially useful control mechanism]. They also skip the etiquette lessons, which seemed irrelevant to me anyway – how do good table manners help, when your mission solely involves the use of a sniper rifle?
The specifics of her missions are also altered. The final test, rather than an assassination in a restaurant, is to kill the bride at a Jewish wedding, for reasons left unexplained – but given the heavy weaponry carried by a lot of guests, it's perhaps no bad thing! Others involve shooting an executive of the WWF (the nature group, not the wrestling federation!), a throat-slitting at a Japanese hot spring resort, and, in the best-staged sequence, dropping a lot of metal from a great height onto the roof of her target.
However, the movie's main strength is Jade Leung, who fully deserved the Best Newcomer award she won at the 11th Hong Kong Film Awards. Every facet of her character is consistent and believable, certainly more so than Bridget Fonda – it's at least the equal of Anne Parillaud, and arguably may be even better. Yam is perhaps a kinder, gentler handler: he doesn't shoot his protege in the leg, for example, yet the relationship between them is missing the romantic spark which lurked in the original. As for Thomas Lam, he's not Dermot Mulroney, and that alone is an improvement.
The film is undeniably flawed, not least in a soundtrack that is often wildly inappropriate, and seems to have been pulled at random from easy-listening CDs. But its core is solid, and in a lot of ways, this is a more justifiable movie than Point of No Return. While the story remains the same, Black Cat does at least bring a bottle to the party, adding enough new twists to make it interesting (and avoid a lawsuit). Leung's fine performance is an unexpected bonus.
Dir: Stephen Shin
Star: Jade Leung, Simon Yam, Thomas Lam