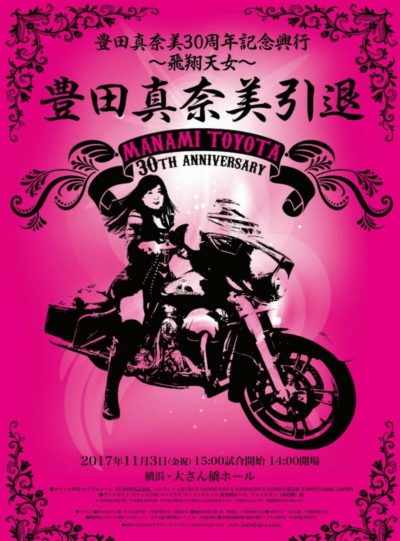 Manami Toyota is perhaps the greatest wrestler you've never heard of – at least, unless you've an interest in the Japanese women's version of the sport, known as joshi puroresu. There, she has been its almost undisputed queen for much of the past three decades. That covers the span from her debut on August 5, 1987, at the age of just 16, through to her farewell show which took place on November 3 in Yokohama's Daisan Bashi Hall. She was in the vanguard of, and a significant force in, the joshi resurgence which took place during the mid-nineties, when women's wrestling crossed over beyond its usual audience. That likely peaked with the Big Egg Wrestling Universe cross-promotion show at Tokyo Dome in November 1994. A crowd of more than thirty thousand attended the event, which ran for more than ten hours.
If you've only ever seen the WWE Divas, then joshi will come as a shock, with monsters like the aptly-named Aja Kong punting their opponents around the ring with brutal efficiency. Toyota was slightly-built in comparison: billed at 150 pounds, and that likely an exaggeration for marketing purposes. But her bouts against far larger opponents were still credible, because of three main things. First, her incredible technical ability: there's good reason a video exists on YouTube called "Top 60 Moves of Manami Toyota"! Secondly, her fearless high-flying. for example, I remember a match outside in the rain, where Toyota was still climbing up the light rigging and flinging herself off it. Third, an insane level of stamina. She could wrestle 60 minutes non-stop, and at a pace few wrestlers of either gender could match.
Yet that intensity is what led to her retirement, Toyota increasingly suffering from neck and shoulder issues as a result of the in-ring punishment she both took and dished out. Or, should I say, her second retirement. For Toyota first "quit" due to a silly unspoken rule of the All Japan Wrestling promotion that its women wrestler had to retire at the age of 26, whether they wanted to or not. Toyota would continue for two decades after that point, surviving the fall of AJW and the resulting disintegration of the joshi scene into a slew of smaller, independent promotions. Her feuds and partnerships with the likes of Toshiyo Yamada, Akira Hokuto and Kyoko Inoue remain unmatched, even now. And, of course, Toyota would not go out quietly, wrestling fifty opponents at her retirement show, before then fighting a best-of-three falls match against her designated heiress, Tsukasa Fujimoto.
Legendary pro wrestling writer Dave Meltzer of the Wrestling Observer Newsletter (WON) called Toyota "one of the greatest wrestlers of all-time, regardless of gender," and awarded 5+ stars to more of her matches than any other woman. Melter was famously stingy with those rankings: few would see more than one in a year. But at the peak of her career and talents, between 1991 and 1995, Toyota was involved in seventeen such matches, including three in one week. She was part of WON's Match of the Year in both 1992 and 1995, and won named its Most Outstanding Wrestler in 1995. Neither award is divided by gender, meaning she beat all men that year as well. She was just that damn good.
Below, you'll find a playlist including 11 of the 17 five-star matches. They might help give you some insight as to why many regard her as the greatest of all time.