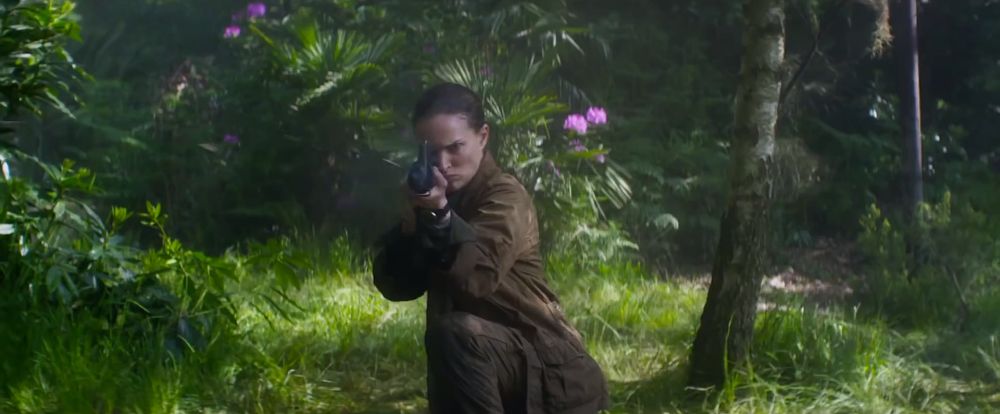 Before we get into looking forward to next year, let's look back at 2017, and what happened to the films mentioned in our last preview. Not a bad year, with Wonder Woman proving that an action heroine based on a comic-book could more than hold her own at the box-office. Though Ghost in the Shell proved that wasn't necessarily a guarantee. The Resident Evil and Underworld franchises had perhaps the final outings, with their current personnel. And Charlize Theron solidified her credentials as the current queen of Hollywood action heroines, with Atomic Blonde (then known as The Coldest City) delivering the year's most bone-crunching action. But what of the titles we mentioned there, which never arrived? Where is Annihilation? The Godmother? Red Sparrow? Read on, for updates on these, and other entries currently scheduled for 2018…
Alita: Battle Angel (Jul 20)
I loved the anime. I adored the manga. I am… not certain about the live-action adaptation. The trailer looks good, but the over-sized eyes they've given Alita are really distracting, especially since she's the only one who has them. Still, Robert Rodriguez has done enough in the past to deserve slack: both Planet Terror and Sin City showed he knows his way around an action heroine, and it's likely better he does it, than the original intended director of James Cameron. [How the mighty have fallen…] Though after the commercial failure last year of Ghost in the Shell, I wonder if the market is ready for this?
Anna (TBA)

Details are extremely sparse about Luc Besson's new directorial feature. It will be a lot smaller in scale than the under-performing Valerian and the City of a Thousand Planets, with a budget estimated at $30 million, compared to Valerian's $220+ million. It will star Sasha Luss, who had a small role in Valerian, as well as Cillian Murphy, Luke Evans and Helen Mirren. But beyond that? Besson offered one image (right) through Instagram, along with the cryptic comment, "When Nikita meets Leon…" That's all we have for now. While listed for 2018 on IMDb I've a feeling this may end up drifting back into 2019. Hopefully we'll know more by next year's version of this article!
Annihilation (Feb 23)
Directed by Alex Garland, who got a lot of acclaim for Ex Machina, it stars Natalie Portman as Lena, the leader of an all-female expedition, who enter an environmental disaster zone called "Area X", in search of her missing husband. According to Garland, Lena "finds a very strange, dream-like, surrealist landscape, and goes deeper and deeper into that world, and also into that mindset." A teaser trailer was released in September, and emphasis was definitely on "teaser," since it keeps all the movie's cards very close to its chest. But the cast, also including Jennifer Jason Leigh and Gina Rodriguez, has our attention, and the full trailer (a still from which is above) does nothing to decrease our interest.
Cadaver (Aug 24)
This should have come out in August 2017, but was shunted, first to February and now August. Not usually a good sign. It centers on ex-cop and recovering alcoholic Megan Reed (Shay Mitchell), who takes a graveyard shift at a hospital morgue, and according to the IMDb synopsis, "faces a series of bizarre, violent events caused by an evil entity in one of the corpses."
Cocaine Godmother (Jan 20)
I'm not quite sure what's going on here. Last time we checked, this biopic about Griselda Blanco starring Catherine Zeta-Jones, was known as The Godmother and principal photography began in November 2015. But according to the IMDb, that production is now circling development hell, with Catalina Sandino Moreno as the lead. Best as I can tell, Zeta-Jones instead moved over to play the role in this movie (left), which will be skipping theatres. It will also be skipping DVD, apparently, and appearing instead, directly on Lifetime. I suspect this may limit some of the more salacious elements of Blanco's story!
The Darkest Minds (Sep 14)
An adaptation of the young adult novel of the same name by Alexandra Bracken, here's the Wikipedia synopsis: "When Ruby woke up on her tenth birthday, something about her had changed. Something frightening enough to make her parents lock her in the garage and call the police. Something that got her sent to Thurmond, a brutal government "rehabilitation camp." She might have survived the mysterious disease that had killed most of America's children, but she and the others emerged with something far worse: frightening abilities they could not control. Now sixteen, Ruby is one of the dangerous ones…" Particularly of interest, Gwendoline Christie, playing a bounty hunter of teens who escape from the camp.
The Girl in the Spider's Web (Oct 19)
Author Stieg Larsson may be dead, but the media machine grinds on, with a fourth novel featuring Lisbeth Salander and journalist Mikael Blomkvist, having been written by another author. This is being adapted by Hollywood, without even waiting for a Scandinavian version, though neither Mara Rooney nor Daniel Craig will be returning to their characters. Replacing Rooney is Claire Foy, best known for her roles as two British queens: Anne Boleyn, and Queen Elizabeth II in The Crown. After not being particularly impressed with the first American take on the characters, we'll see if "not being a superfluous remake" helps this at all.

Headlock (TBA)
IMDb synopsis: "After new CIA recruit, Kelley Chandler is seriously injured during a mission, surviving only on life support, his wife Tess (Dianna Agron), a former CIA operative, becomes determined to find out what happened to her husband. As the details of Kelley's last mission unravel, showing that his accident was an inside job, Tess puts everything on the line to keep Kelley out of harm's way, even if that comes with dangerous consequences." Will we ever see this? For its status was changed to "Completed" on Oct 17… 2015; the still above was released more than a year prior to that.
Ocean's Eight (Jun 8)
I'm a bit surprised they bothered, after the firestorm of criticism – some justified, some not – which followed the all-female Ghostbusters remake. This might have a better cast: Sandra Bullock, Cate Blanchett, Anne Hathaway and Helena Bonham Carter, though what the hell is an "Awkwafina"? Must confess to not having seen any of the male versions of the franchise, so at least this storyline will seem relatively fresh to my eyes. On the other hand, there's a reason I haven't seen any of the male versions…
Proud Mary (Jan 12)
Starting off 2018, we have Taraji P. Henson playing an organized crime hitwoman in Boston, who leaves a young boy orphaned after a job goes wrong. Described elsewhere as "John Wick's action meets Foxy Brown's retro style" – though you could quibble that Foxy Brown was certainly not "retro style" – those are some lofty platform shoes to fill. The story doesn't exactly particularly new, and I'm likely about 80% sure I can figure out where it's going to go. When the producer says it's about Mary "finding her purpose and her heart again through this relationship with this kid," that whirring sound you can hear are my eyes rolling…
Red Sparrow (Mar 2)
Jennifer Lawrence's return to the action genre also re-teams her with Francis Lawrence (no relation),who directed three-quarters of the Hunger Games' movies. She plays a former ballerina, Dominika Egorova, whose dance career is ended by injury, and who becomes a Russian spy instead. She falls for a CIA officer, played by Joel Edgerton, a relationship which makes Egorova consider becoming an American double-agent. The trailer doesn't skimp on the promise of sex and violence, and according to Lawrence (the directorial one), will have a "hard R" rating. This year's Atomic Blonde, maybe?
Scorched Earth (Feb 2)
This was originally supposed to be out last year, but vanished without trace from the schedules. At least, until just a couple of days ago, when a trailer suddenly appeared (and can be seen as part of the playlist below). It takes place in a post-apocalyptic world, where a bounty-hunter named Atticus Gage tracks down criminals. Which wouldn't seem to fit in here, except that Atticus is played by Gina Carano, who looked very impressive in Haywire. The same can probably not be said of the trailer, unfortunately, which looks very generic; I hope the movie has more of Carano in action. This will be getting a limited theatrical release, and also opening at the same point across video-on-demand channels
Swords and Sceptres (TBA)
According to the IMDb synopsis, this is "A tale of women's empowerment, Swords and Sceptres tells the true story of Lakshmibai, the historic Queen of Jhansi who fiercely led her army against the British East India Company in the infamous mutiny of 1857." Lakshmibai is often considered "India's Joan of Arc" and this isn't the only film to tell her story this year. We'll also get The Queen of Jhansi, but that appears to be a "pure" Bollywood film. This includes Rupert Everett, Derek Jacobi and Jodhi May, as well as the less well-known Devika Bhise as the Queen, so likely has a better chance of a Western release.
Tomb Raider (Mar 16)
She's back! 15 years after Lara Croft Tomb Raider: The Cradle of Life underwhelmed, Lara returns, this time in a grittier and less… ah, "bosomy" version. Alicia Vikander straps on the vest and twin pistols for this reboot of the franchise, as previously worn by Angelina Jolie. Is she "strong" enough? We'll see, but similar qualms about Gail Gadot as Wonder Woman proved unfounded. Fellow Scandinavian Roar Uthaug is directing this, which gives me cause for optimism since he also gave us the remarkably bad-ass wilderness pic, Escape (Flukt). If this can match it, we'll have the best Tomb Raider film thus far.
Traffik (Apr 27)
Here's the official synopsis for this one: Investigative journalist Brea Stephens (Paula Patton) goes on what is supposed to be a romantic getaway to a cabin in the woods with her boyfriend, John Wilson (Omar Epps), but after a chance encounter with a suspicious gang at a secluded truck stop, they find themselves unknowingly in possession of a phone containing proof of the gang's sex trafficking exploits. Caught in the crosshairs of the relentless crew, Brea and John are left with one mission: survival.
Widows (Nov 16)
Directed by Steve McQueen – no, the other one, who did Oscar-winner 12 Years a Slave – this is based of the eighties TV series of the same name [which I must get round to reviewing – I watched two of the three seasons, but it then fell off my radar]. Assuming it follows the same lines, this will be the story of a group of women, whose husbands are killed during a botched armed robbery, who decide to carry on and pull off the raid themselves. In this version, the widows will be Viola Davis, Elizabeth Debicki, Michelle Rodriguez and Cynthia Erivo.
Below, you'll find a playlist with the seven currently available trailers for the above movies, to whet your appetite some more!