"Certainly better than Battle Royale 2."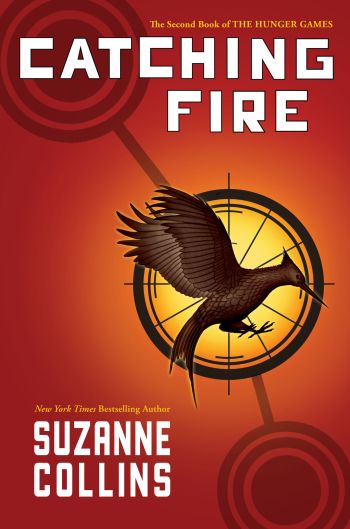 We rejoin heroine Katniss Everdeen in the second book of the trilogy, after her success in the 74th Hunger Games, where she out-lived the other contestants, in part through a fabricated love-affair with fellow District 12 tribute, Peeta. However, as well as her previous love, Gale, she now has to cope with life as a celebrity, beginning with a "Victory Tour" through the other districts. It soon becomes clear that not all is well, with her stand against the Panem government having fanned the flames of rebellion elsewhere. To demonstrate their power remains unshaken, the leaders announce the special, 75th Hunger Games will involve two previous winners from each district, meaning Peeta and Katniss are sent back in to a new, even more lethal environment, to take on other champions.
That this works better than its predecessor, is mostly due to the pacing department, which builds through a first-half of impending doom, and on to an upgraded Hunger Games, before dropping a bomb in its final paragraph. There's more depth given to the Panem hierarchy than first time around, and the undercurrent of growing revolution is nicely depicted. The Twilight-esque love-triangle aspect, which bogged down the first book, is reined back, with Gale almost absent, though Katniss still has deal with her feelings for Peeta, whom she has sworn to protect at any cost. However, can she trust those with whom she is allied in the games, and whose motivations are less clear? It's this angle which largely keeps you turning the pages, along with the arena, throwing one threat after another at her.
At its center is Everdeen, who remains an entirely admirable creation. She is loyal, brave and phenomenally-skilled with her bow, yet possesses enough doubts and flaws to keep her human, rather than becoming some kind of superheroine. Clearly, the first-person narrative does mean there's not much sense of direct threat to Katniss's survival; however, Collins has enough other cards in her hand, to leave you concerned as to what the emotional cost of that survival might be. Hopefully, the second film can capture the nuances and improve on its predecessor in the same way. For when that literary bomb was dropped on me at the end, I gave serious consideration to heading straight into the third book. Damn you, Suzanne Collins.
Author: Suzanne Collins
Publisher: Scholastic