"They'll never make her cry…"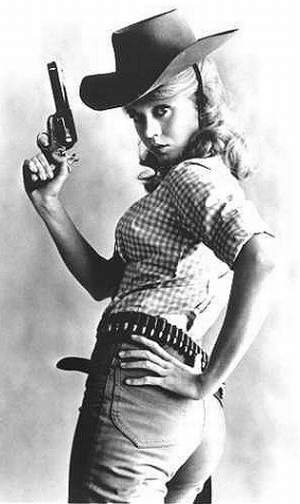 Aspiring teacher Catherine Ballou (Fonda), heads home to see her father in Wyoming, but finds him engaged in a struggle over his land with a land baron, and threatened by the villainous Tim Strawn (Marvin). She sends for legendary gun-fighter Kid Shelleen (also Marvin) to come protect them, only to find he is less legendary gun-fighter, and more alcoholic bum, incapable of saving himself. Strawn shoots Cat's father and, when justice fails to be served, she heads off to a nearby outlaw town, where she vows to bring the land baron down and take revenge herself.
Originally a 'serious' novel – the same author, Roy Chanslor, also provided the source material for another proto-feminist Western, Johnny Guitar – this was turned into something light and frothy in tone. It provided a career breakthrough for Fonda, making her a star at age 28, and did much the same for Marvin, whose double role got a Best Actor Oscar, and helped lift him up after decades in TV and supporting roles. Unlike Paint Your Wagon, he wisely leaves singing to the pros e.g. Nat King Cole. This was a precursor to Fonda's cult role as another fringe action heroine a couple of years later, as Barbarella. As there, she is less action-oriented than I'd like, though we have to bear in mind the era. She unquestionably drives the plot along, but when it comes to things like the train-robbery, she generally steps to one side, leaving things up to her male colleagues.
That said, she shows guts and bravery, as is shown in the scene immediately after the death of her father, where she goes to confront Strawn. It's a poignant scene, where she realizes that the entire town is against her, and vows "You'll never make me cry!" – and is in marked contrast to her first encounter with him on the ranch, where Strawn's mere presence is enough to start her screaming. It's a nicely-drawn arc, and the ending leaves me wishing there'd been a sequel. Still, nothing quite lives up to the delightfully pre-credit sequence, where the Columbia logo transforms into the rootin', tootin', six-shootin' animated version of Cat Ballou shown below. That would be the movie I want to see.
Dir: Elliot Silverstein
Star: Jane Fonda, Lee Marvin, Michael Callan, Dwayne Hickman