"Pride and Prejudice and Vampires"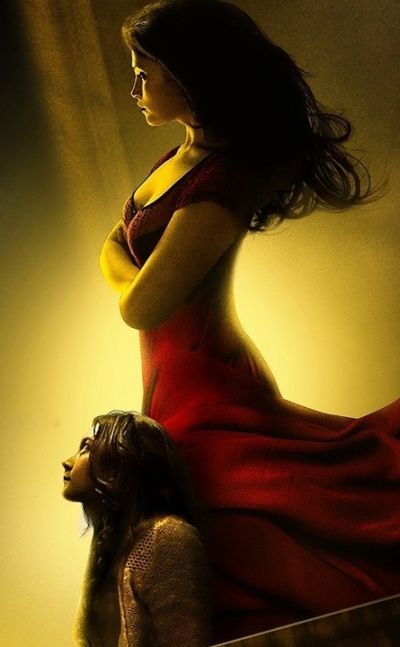 Ok, that's probably not strictly accurate, but there is more than a hint of it, in the way this manages to combine period drama with Gothic horror trappings – while also depicting the same characters in the present day. This slipping back and forth in time is somewhat distracting, and there are points where you wish they had just picked an era and stuck with it. The heroines here are a pair of mother and daughter vampires (Arterton and Ronan), who have been more or less on the run for about two centuries. For the mother, Clara, was a terminally-ill prostitute who stole the secret of vampirism from her client, Captain Ruthven (Jonny Lee Miller) in the early 19th century. She not only became immortal herself, she turned her daughter, Eleanor – an act strictly against the tenets of The Brethren, who are kinda like the vampire union, who put out a death-warrant on the pair. In the present day, this means Clara – still turning tricks to provide for Eleanor – has occasionally to decapitate people with a garrotte, should they turn out to be hunters sent by The Brethren.
The pair end up wintering in a boarding-house on the sea-front of a largely deserted seaside town (I got a strong whiff of Harry Kümel's Daughters of Darkness, which had Ostend instead of Hastings for its "experienced" female vampire and her acolyte). Eleanor is increasingly dissatisfied – and who wouldn't be after two centuries stuck in perpetual adolescence – and seems almost to half a self-destructive streak, including writing essays at school about her vampiric life, which naturally cause concern to her teacher! She also builds a relationship with young, ill waiter Frank, something of which Clara also disapproves. There's a good, dynamic contrast between the two leads. At the time, Ronan was fresh off both Hanna and than Violet + Daisy, though she is the cerebral of the pair here, careful only to drain the blood of those who are ready and willing to accept death. In comparison, Arterton is far more animalistic and instinctual, making this an interesting warm-up for her subsequent role in Hansel & Gretel: Witch Hunters.
This isn't Jordan's first entry in the vampire genre, having previously directed Interview With the Vampire, and the two aren't dissimilar, both being as much about the relationships as actual blood-sucking. I wish I'd learned more about the back-story of Clara and Eleanor; there would seem to be a rich history there, that's almost entirely unexplored, with virtually nothing about the 190 years between the latter's turning and the present day. Has Eleanor been a sullen teenager all that time? Dear God, I thought I was a saint, handling the resulting sulkiness for less than a decade, as our kids went through it. Decapitation by garrotte sometimes seemed a good approach to parenting. However, at least Eleanor doesn't sparkle, although there's an amusing nod to other vampire lore, as she watches one of the classic Hammer movies from the genre. If not developed fully enough to be a classic itself, there's still enough new and/or well done here, to make this better than your average random Netflix selection.
Dir: Neil Jordan
Star: Saoirse Ronan, Gemma Arterton, Daniel Mays, Sam Reilly