"Not with a bang, but a whimper, and a whine."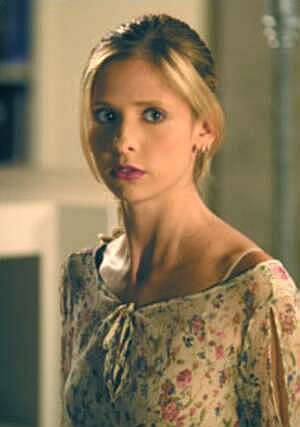 Hannigan and Brendon claim to have learned about the show's demise in Entertainment Weekly, but it was apparent early on that Gellar in particular was going through the motions. Whedon too, seemed to have lost interest, and you know a show is in trouble when they drag back characters from previous series, who seem ten times more interesting than the regulars. The thrust this season was towards a confrontation with the ultimate evil. Oh, my: an apocalypse – how original. And look! It's a vampire with a soul! Pushing Buffy back into the school environment was another admission that the show had lost its way when it "graduated", abandoning the whole concept which had powered it early on. It never found a replacement, floundering around in search of a point.
Did like the idea of an army of proto-slayers, despite the painful inevitability of one falling into Willow's bed, reinforcing our theory that everyone in Sunnydale is a slut. That's been something of a mantra over the past couple of series [when we talk about Buffy the action heroine, this isn't the sort of action we mean…]. The return of Faith added a sharp edge, though Buffy's transition to "adulthood" ended with her becoming a morose, introverted, self-centred bitch. Presumably not quite what Whedon and Co. intended. She was still far better than pointless waste of air Andrew, who deserved to die ten thousand times.
Unlike series six, where the finale rescued the season, this time, it was dreadful, despite some cool effects. They threw out fundamental Buffy philosophy – "into every generation, a slayer is born" – in favour of vapid girl power posturing. What about the previously-expressed idea that imposing slayerdom on someone without their consent was equal to sexual assault? Give it up for Willow, the lesbian who 'raped' thousands, if not millions, of little girls… I will miss the show; there was nothing quite like it on TV, and it leaves the networks devoid of action heroines save for Alias. But before it ended, watching it ceased to be a pleasure, and much of the final series bordered on a chore. They should have quit while they were ahead. Somewhere round about three years ago.
Star: Sarah Michelle Gellar, Alyson Hannigan, Nicholas Brendon, Michelle Trachtenberg