"Hardsuits, rogue mecha and day jobs."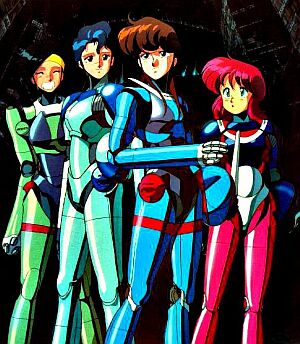 Worthy of note as one of the first pieces of anime made available to an English-speaking audience, (not long after its original 1985 Japanese release), BGC is set in 2032, when Tokyo has been rebuilt, post-earthquake. The Genom corporation are fiddling with Boomers, biomechanical robots of immense strength but with a nasty tendency to run amok. Standing guard are a mysterious team, the Knight Sabers, with their own technological strengths, who alternate between merc work and more altruistic concerns.
Any similarity to Blade Runner is entirely deliberate; the heroine is called Priss, and sings with a band called The Replicants. She, and her three colleagues (Nene, Linna, and Sylia) moonlight from their various day-jobs as the Knight Sabers, each with their own special abilities. The eight episodes in the series combine multiple plot arcs and standalone stories, with mixed effectiveness, though the later ones tend to work better. There's not much background on the characters, save Sylia, and a tendency to gallop through towards the final fight in a number of the OAVs. There's a lot of emphasis on the music, but I'm no J-Pop fan, so they needn't have bothered.
The animation looks a little creaky now, as you'd expect from a show of its age, but also seems to improve as the series progresses – the artists learn what works and what doesn't. I confess to preferring secondary characters such as Nene, to supposed heroine Priss; when we get to see their lives (as in #8, which has Nene acting as "babysitter" to a teenage girl on a quest to photograph the Sabers), it's a more fully satisfying experience. Followed by two sequels, Bubblegum Crash and Bubblegum Crisis 2040.
Dir: Various
Star (voice): Kinuko Ohmori, Akiko Hiramatsu, Michie Tomizawa