"Really, DVD company? "Ultimate chick fighting"? Sheesh."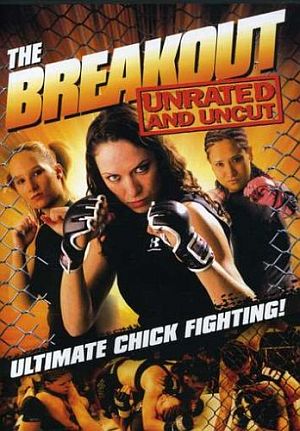 S'funny what you stumble across on Netflix, at the end of a long chain of "See also…" recommendations came this, which according to the Amazon listing, this was "the first ever all women's Mixed Martial Arts fight card." Which it isn't. I can state this for a fact, because we already reviewed Hook 'n' Shoot: Revolution, from almost five years prior to this night in Minnesota. This has similar strengths and weaknesses: there are clearly a number of talented women fighters, but it's hard to put together a card without mismatches.
The most obvious one here is a main event which pitted Megumi Fujii against local fighter Cody Welchlin. Fujii was a perfect 10-0, while Welchlin had exactly one fight on her record. I read online Welchlin was a late replacement, and if so credit is due for taking on one of the top fighters in the world at two weeks notice. However, the result was exactly as you'd expect, and over inside three minutes [Fujii has subsequently become only the second MMA fighter of either sex to start her career going 22-0 – and the consensus is, the sole defeat on her record was a highly-dubious loss]. The penultimate fight between another local, Kelly Kobold and Adrienna Jenkins, was more even, with both fighters having double-digits victories. But Kobold charged in from the get-go, and never let up, even raining up punches when Jenkins was above her, and those blows resulted in a verbal submission at 3:26 in the first round.
Three minutes was about the average length of the bouts; Ginele Marquez got a rear naked choke on her opponent Liz Posener at the 3:16 mark in her bout. Marquez had Gina Carano in her corner: Carano is not just one of the top fighters in women's MMA, she's also the star of the upcoming Stephen Soderbergh flick Haywire. Was quite surprised the production didn't mention her presence at all, as they did speak to some of the male MMA artists present, such as Jens Pulver [who was Jenkins' fiancé]. Erin Toughill, another noted name, was also involved, doing colour work round the cage, and the production came over as generally slick and professional.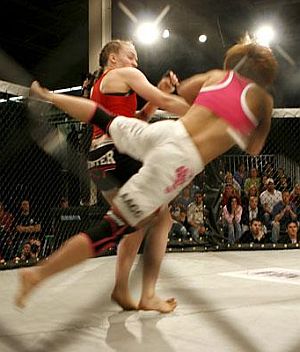 The shortest match of the night – lasting exactly one minute – was a bit unfortunate, as Shayna Baszler actually broke the arm of her opponent, Samantha Anderson. She was applying a submission hold on the arm, but it seemed that Baszler fell forward, resulting in the pressure being made much worse, and resulting in a clean break of her humerus. Ouch. The opening contest [on the DVD – there was an amateur fight not included for some reason] was the only one that lasted longer than one five minute round, with Marissa Inhofer beating Kirsty Bushnell. As well as being the brother of another MMA figher [Nick Inhofer was on The Ultimate Fighter 3] Inhofer was a roller-derby girl, and seemed to have brought a large contingent of her team-mates with her.
I can't claim to be an expert in MMA, but as noted, the 'Ultimate Chick Fighting!' tag on the DVD sleeve does the women involved a disservice. As one of the commentators pointed out, "Pain doesn't discriminate," and it was also noted that it's harder for women, since they typically have to hold down a full-time job, as well as fit in the rigourous training required. Respect is definitely in order. However, at the point of this event (March 2007), there still seems to be a lack of depth in the talent pool, which leaves a card like this short of truly successful.
Star: Megumi Fujii, Kelly Kobald, Adrienna Jenkins, Cody Welchlin