"Bound to disappoint"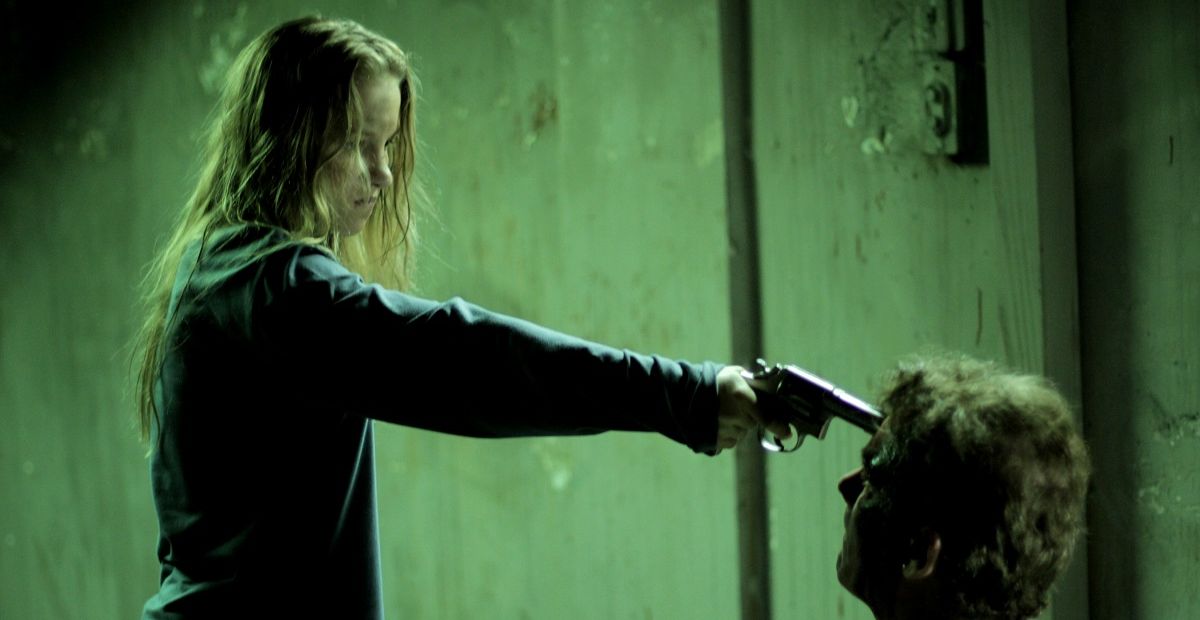 I've been watching horror movies for over 30 years now, and appreciate that a certain amount of idiotic behaviour is to be expected. People will go into cellars. They will stand right beside the apparently-dead body of a masked killer. They will trip over those pesky tree roots. They will split up. That goes with the territory. But this entire film is predicated on a terrible decision which the lead character makes early, then refuses to reconsider, though the results clearly indicate its wrongness and she could change her mind at any time. Eve (Ivlev) has been captured by the psychopathic Phil (Tyson), but lures him into a trap by feigning unconsciousness, bludgeoning him with a brick and chaining hum up in her place. Escaping the house, she finds herself in the middle of nowhere, but gets the keys to the truck. At this point, what absolutely any sensible person would do, is high-tail it out of there, notify the authorities and let them take over.
But then, there'd be no film. Instead, she takes at face value Phil's claim that he has a number of other houses, also containing kidnapped women [itself, a scenario that begs the question, "Why?" Wouldn't it make more sense to have one large house with multiple rooms?]. Worse yet, she decides to make him lead her to them, so she can free the other captives. Even after neither the first nor the second go anything like as desired, Eve plunges on, apparently for no better reason than a touching belief that, hey, third time's the charm. Of course, if she gave up, she (and we) would never find out the connection to her boyfriend (Kjornes), crudely telegraphed by the director through frequent inserts of shaky home-video footage of the two of them, interacting before her abduction. Mind you, nor would it allow for the moral to become "All men are bastards" rather than "This man is a bastard"; as is, there is not a single redeemable male character in the entire thing.
Credit is due for focusing almost entirely on the revenge side of the equation: we know Eve has been through hell by the point we meet her, and Cravioto doesn't feel the need to have that aspect portrayed at length. Ivlev and Tyson are both decent in their roles, with the former demonstrating a steady growth in personal badassness that is adequately gratifying, and comes to a satisfactory conclusion with one final decision which actually does make sense. It is an enormous shame that everything leading up to the moment is based on a horrendously-flawed concept, which the film doesn't attempt to acknowledge – hell, the worst genre film is still required to have a scene of someone waving their cellphone around and muttering, "No signal…" Even if some of the other aspects are laudable, as mentioned above, the overall result is irrevocably weakened, and won't stick in your mind for any good reasons.
Dir: J. M. Cravioto
Star: Tina Ivlev, Richard Tyson. Kristoffer Kjornes
a.k.a. Reversal