"What big secrets you have, Grandma…"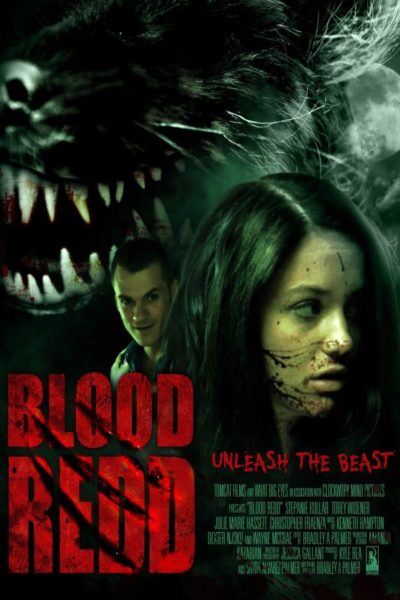 Lauren Redd (Huller) really doesn't want to spend the weekend at Grandma's house. Like most teenage girls, she has a million things she'd rather be doing than visit an elderly relation. On arriving, she meets Albert (Widener), a flamboyant caregiver – but one who turns out to be a serial killer with a wolf fetish. Fortunately, the threat – along with a little something slipped into Lauren's drink – awakens her own inner wolf – and it's not just a fetish, but true lycanthropy, passed down in maternal genes through her family. When Lauren wakes the next morning, she finds herself covered in blood, a severely-injured Albert not far away, and her mother (Hassett) with some serious 'xplaining to do. However, pathologist Mortimer Clarke (Frainza) is piecing together the clues, even if no-one in the police force will take his belief in werewolves seriously, for obvious reasons.
It's a bit of a fractured item this, with about three different stories going on, almost feeling like they come from entirely different films. First, there's the obvious Little Red Riding Hood adaptation, focusing on the Lauren/Albert relationship, up to and immediately after her transformation. Then, there's Lauren, coming to terms with her new talents, which are both a help and a hindrance at high-school. Finally, there's also Clarke's investigation, as he tries to figure out what happened at Grandma's, and whether the supposed "dog attack" actually took place as claimed. Not all of these work equally well: the first is certainly overlong, especially given it is just not very interesting, in particular with Widener overplaying the "gay" thing like a drag queen on meth. I'd much rather have seen more of the high-school aspects, which are effectively played, reminding me somewhat of the truly awesome Ginger Snaps, or the familial history, also not dissimilar to the recently-reviewed When Animals Dream.
This is, let's be honest, done on a much smaller budget than either, and there are aspects which make the limited resources painfully obvious, such as the actual transformation – they probably shouldn't have bothered. On the other hand, some are well done: Hassett gives a convincing portrayal of a mother willing to do anything for her daughter, and the ending ties up the loose ends in a way that makes sense and is also emotionally satisfying. You may find, as I did, that the early going here is more than a bit of a slog, and you'll need to persevere to reach the more interesting aspects that follow. Palmer has found some original twists for the genre, and it's only a shame he didn't concentrate more fully on these, instead of the less successful elements that bog things down considerably in the first half.
Dir: Brad Palmer
Star: Stephanie Hullar, Julie Marie Hassett, Christopher Frainza, Torey Widener