"The best of the recent docs for the novice to the sport."

In contrast to Brutal Beauty, this succeeds to a far greater degree is in putting over the attraction of roller derby. The first couple of films seem aimed more at the devotee, and it was more or less taken as read that already you liked it, or were at least somewhat interested. Here, I think even the more casual viewer will find themselves sucked in. They may or may not want to go any further, but the doc does a much better job of explaining the entertainment to be found, both for participants and spectators. The sheer sense of fun that is found at the best roller-derby events [or even, to be frank, the crappy ones, which we have also attended!] is a good deal more palpable here than in the other films, which concentrated on personalities to a greater extent than the sport. That isn't the case here, and to an outsider, the results are likely better for it.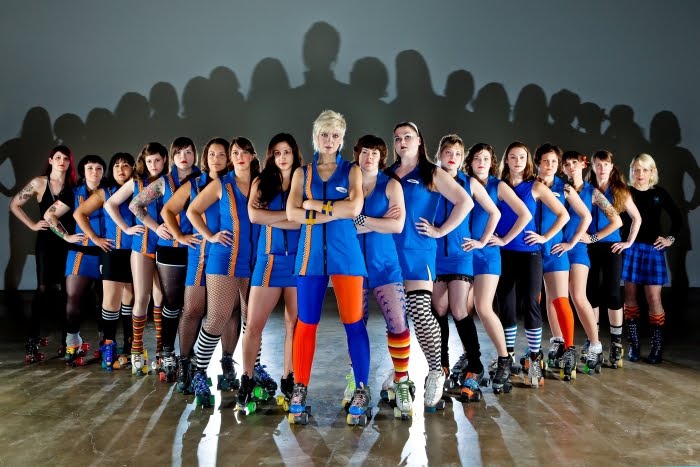 Not that there is any shortage of said personalities, such as the mother and daughter who both take part in the sport, or the three sisters who have been roller-skating virtually their entire life, and are feared across the entire Seattle league. There are, admittedly stories about romance and marriage included, but even these have a close connection to roller-derby, like the guy who proposes after his girlfriend became part of the championship-winning team [I can relate to this, having proposed to my wife immediately after the Arizona Diamondbacks won the 2001 World Series!]. I also enjoyed the insight into the different teams, like the Sockit Wenches (right) or the Derby Liberation Front, and the different ways in which they both perceive themselves and are perceived from the outside. Each has a different group personality, which of course, attracts other like-minded individuals, reinforcing that aspect of the team.
In common with the rest of the films, it covers a period of time rather than necessarily any particular sequence of events, mostly around the 2006 season, where the Wenches were trying to dethrone the reigning champion DLF. There's enough footage of actual bouts that you can understand the skill of the participants, and the danger inherent in the sport. It's frank in admitting that sex appeal is part of the draw, especially for the male audience, but I can attest that the film is also correct when it states that after about 15 minutes, that simply isn't important. With its host of likeable players, it's no surprise that the derby scene in Seattle continues to prosper, with the fed holding the national record for single-event attendance, having pulled 6,885 to a show in June 2010.
[It doesn't seem to be available to stream online for free; we found it on Netflix. ]