"Not bleeding awful – but close."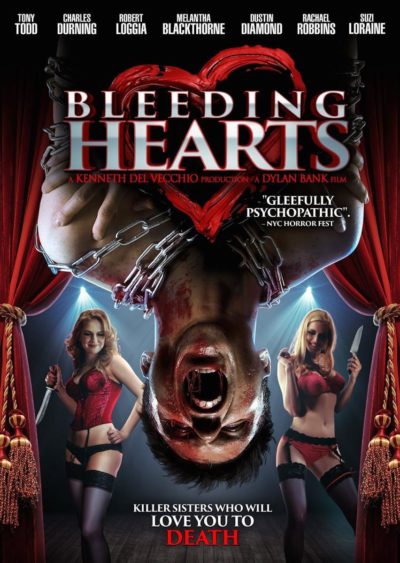 Stumbled across this low-budget horror flick almost by accident when I was Googling the similarly-titled but very different, Bleeding Heart. The premise was kinda intriguing: five successful half-sisters (doctor, lawyer, engineer, etc), living in a small town, take a month off each year together and vanish off the grid. What the townfolk don't know, is they kidnap various obnoxious menfolk under the guidance of leader Leslie (Robbins), subjecting them to unspeakable tortures and eventually killing them, before returning to everyday life. Into this town comes documentary film-maker Oliver Jaffe (Diamond), who starts to investigate the odd situation, after his car breaks down in town.
The same director previously made Scavenger Killers, which was kinda like a sleazy version of Natural Born Killers, also starring Robbins – this is similarly low-brow, apparently attempting to be as offensive as possible. If you're not prepared to cope with a naked man in a cage on his haunches, being violated with a wire-brush, this is probably not for you. Though you'd be forgiven for wondering if there'd been some kind of mix-up with the DVD at the beginning, which starts as a social satire in which Santa (the late Charles Durning, in his last feature appearance), Jesus and Satan share a house, occasionally being harangued by God (Tony Todd). Turns out, this is a film-within-a-film, being made by one of the sisters' targets this year.
Even as someone who IS prepared to cope with the extreme content, I found the results were actually kinda tedious: if ever a film is guilty of trying too hard, it's probably this one. There's no shortage of nudity from the actresses, to the extent I began to wonder if this was filmed in its entirety at an adult film convention. But it's curiously uninteresting and ineffectual, since you're never really given any reason to care much. The structure is weird too: there's so little connection between the two halves of the story, right until the end, I wondered if Diamond and Robbins would ever meet (just as I strongly suspect Todd's scenes were filmed separately from everyone else's, since you don't see him and anyone else in the same shot).
Instead, Diamond's half feels almost like complete filler: there's no real sense of "investigation" since the audience already knows the truth about what's going on. Or, most of the truth, at least. While there's a last reel twist or two, these are no more effective than most of the other aspects. You may be left to wonder why they bother having five sisters, when there's no more than 2.4 personalities between them – Leslie, and perky foot-model Candy (Lorraine) being responsible for the great bulk of that. This is one of those cases where I can see how the various pieces of the jigsaw could have been fitted together into something potentially transgressive and interesting. It never gets there though, and the likes of Todd, Durning and even Robert Loggia, who plays the local sheriff, are not well-served by this at all.
Dir: Dylan Bank
Star: Rachael Robbins, Dustin Diamond, Suzi Lorraine, Melantha Blackthorne