"When good yoga instructors… GO BAD."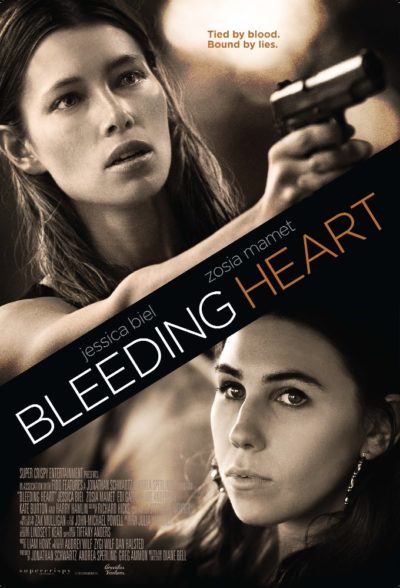 Yoga instructor May (Biel) is delighted when she finally tracks down her long-lost biological sister, Shiva (Mamet) whom she has never met. However, the reunion is soured because May discovers the abusive relationship in which Shiva is embroiled. Worse is to come, as she finds out that Shiva is actually a hooker, and her significant other, Cody (Anderson), is more pimp than boyfriend. May's efforts to help her sibling run into stormy water – not just from Cody, but also her own boyfriend, Dex (Gathegi) and adopted mother, who think Shiva and Cody are just shaking May down. Eventually, the point comes where May has to come out of this middle-class comfort-zone, because the downward dog position isn't going to help her and Shiva escape their increasingly perilous situation.
As director Bell – herself, once a yoga teacher – put it: "It's easy to be peaceful and feel blessed when everyone around you is like that. But… what is the correct choice, when confronted with someone who doesn't want to sit down and have peaceful talks?" For it's a relatively uncommon, even subversive, idea proposed here, especially in a Californian indie film [although Bell is a fellow Scot, the setting here is 100% Los Angeles]. While non-violence is clearly preferable, any realist must admit, it's not necessarily the solution to every problem, and there are times when more direct action is not only justified – it's required. It's also interesting that both the conventionally villainous Cody and "nice guy" Dex are portrayed as controlling their women: one physically, the other psychologically.
I guess "interesting" is a good word to sum this up in general – it'll make you think, rather than feel. Not that there's anything wrong with thoughtful film-making as a concept. It's just that the particular topic is one which should affect the viewer on a gut level. I kept thinking, "Is this the scene which will make me angry?", and it never quite gets there, with my emotional needle failing to go past "somewhat annoyed." It's perhaps partly a result of the two leads being almost stereotypical in their lives: May, in particular, embodies just about every trope of the happy hippie chick.
The film becomes rather more satisfying after she realizes that pacifism and chanting are not going to address this particular problem. Especially amusing is the scene in which she bursts into the house where Shiva is working, ending in May bidding the client farewell with a cheery, "Namaste, motherfucker." It's a cheap shot, for sure, yet it worked for me. More of this intensity would be welcome, though since we enjoyed her in Blade: Trinity, Biel's credible performance as a bad-ass didn't come as a particular surprise. The trailer and cover do pull something of a bait and switch, significantly emphasizing the thriller elements over the dramatic ones. However, I can't confess to feeling cheated: what it provides over and above expectations, balances out those shortcomings, and the venture proves to be a satisfactory overall experience.
Dir: Diane Bell
Star: Jessica Biel, Zosia Mamet, Joe Anderson, Edi Gathegi