"Bland misandry masquerading as female empowerment."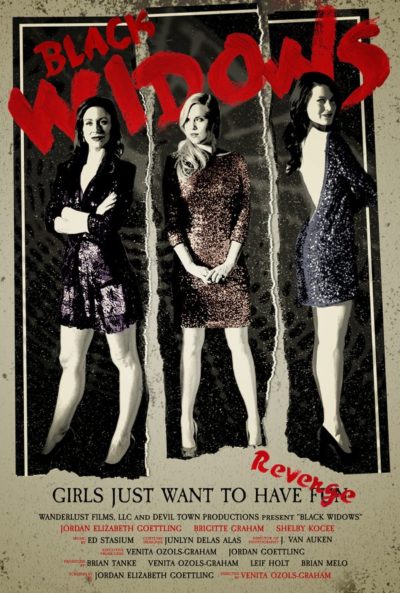 Three women friends – Darcy (Elizabeth), Nora (Graham) and Olivia (Kocee) – are all having shitty luck with their relationships. Olivia is in the middle of an ugly divorce from Adam. Nora's boyfriend Ryan is a control freak. And while Darcy's new friend Blair (Brown) initially seems fine, he turns out to be the worst of them all. After he refuses to take no for an answer, the trio decide revenge is a dish best served naked in the middle of the desert. Unfortunately for him, Blair ends up lacking a pulse. Unfortunately for the film, it takes forever to get to this point, and for the vast majority of its running-time the promised "dark comedy" is neither dark nor comedic.
The writer of this was a date-rape victim herself, and it pains me to say so, but this might be the problem. According to the director, "This was an opportunity for her to wrestle with her demons." It would probably have been better if she'd gone to therapy, written bad poetry or anything, rather than trying to turn those demons into a movie – especially one apparently trying to occupy any subgenre of comedy. For what comes over here is a relentless, bitter tone of (probably understandable, I will admit, given the writer's history) distrust and loathing of the opposite sex, which permeates every scene of the film to such an extent that any potential humour is strangled. You can't even call it dark, it's closer to… jaundiced.
If the film had started with the three women standing over Blair's body, and gone forward from there, it might have worked. For the trio have a cheerfully apathetic approach to the escalating mayhem, and there finally is dark comedy present, in the way they bicker about trivia like getting blood on their shoes. However, it is the very definition of "too little, too late," and any interest and attention was already pushing up the daisies by this point.
As an aside – and because I've otherwise run out of things to say about this almost entirely forgettable item – I've been around the IMDb long enough to know a page stuffed with fake reviews. The obvious giveaway is when the glowing reports are almost entirely from people with precisely one review to their name. That's what we find here, almost two-third of all write-ups being dated the week beginning August 9, the week of its release. Those 16 authors have reviewed a total of three films: this one 16 times, and two others, none more recently than 2012. At best, there was an email blast from the director to her mates, begging for reviews. At worst, paid astroturfing (though I doubt the budget went that far). It's all painfully obvious, because it's almost impossible to see how anyone other than a shill could have genuinely liked this mess.
Dir: Venita Ozols-Graham
Star: Brigitte Graham, Shelby Kocee, Jordan Elizabeth, Jake Brown