"Naked and afraid"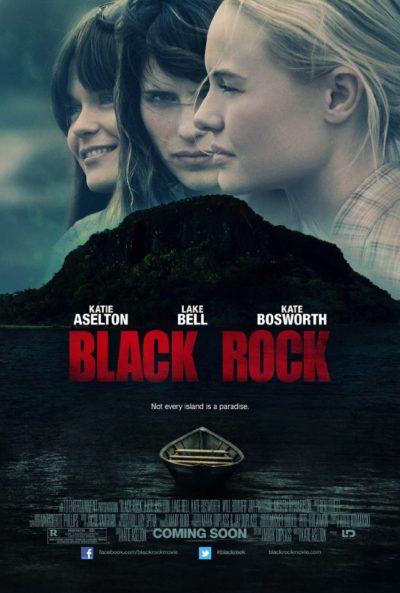 Maybe I'm getting old and deaf. Or maybe it's just not a good idea to have dialogue that appears to consist largely of characters yelling (or whispering) over the top of each other. Either way, probably a negative the muddy audio is the main thing I remember about this survival horror film. Childhood friends Sarah (Bosworth), Abby (Aselton) and Lou (Bell) re-unite for a weekend on an island near where they grew up. There's some reluctance here, Abby and Lou not having been on speaking terms for some years, due to the latter having slept with the former's boyfriend years previously. The island is supposedly deserted, so they're surprised to encounter three men hunting there, one of whom is known to Lou. A drink leads to another, and before you know it, Abby has fended off advances, in lethal fashion. The two survivors don't take kindly to this, and begin hunting the trio to take revenge for their friend.
A credible alternative title for this one would be Stupid Decisions, Volume I. For if you're not yelling more sensible choices at the screen, almost as soon as the action here kicks off, you are simply not paying attention. Indeed, even earlier, such as when one of the women here lies about having cancer – always a great way to build sympathy. Perhaps the nadir is the shouting match while they are supposedly trying to sneak across the beach: another wise idea. Fortunately for them, this is strictly equal-opportunity in terms of idiocy, since the men are no better equipped in the smarts department. Supposedly ex-soldiers recently returned from deployment in the Middle East after being "dishonourably discharged" [hello, giant red flag!], one suspects they wouldn't have made it through basic training, based on the competence level they display here. The wisest approach to surviving would be to hole up and wait for the guys' to shoot themselves in the head. It could only be a matter of time.
The film presents an awkward mix of empowering feminism and shallow exploitation. One moment, "No" means "I'm going to bash your head in with a large rock." The next, the women are stripping out of their wet clothes for an extended sequence of running around the woods naked, after one of their many ill-advised choices, in this case a midnight swim out to a boat moored offshore. It seems equally unsure about whether it wants to destroy the tropes of the horror genre, or simply imitate them. Either way, it doesn't do an effective job. There are only a couple of moments that pack any wallop, and you have a trio of lead characters that rarely manage to rise above irritating. Lou manages to come out the best, at least relatively: 90 minutes of her battling for survival on her own, without all the girlie chit-chat, would likely have improved this considerably.
Dir: Katie Aselton
Star: Lake Bell, Katie Aselton, Kate Bosworth, Jay Paulson