"Given she wears purple, wouldn't a better title be The Mauve Moth?"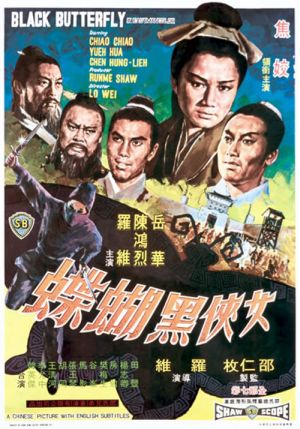 Someone is robbing the rich, and using the proceeds to buy rice for the poor. Could it be the drunken beggar (Yeung) in charge of rice distribution, who is cagey about where his new-found wealth comes from? Or the local inn-owner and former martial arts master (Tien), whose efforts at fund-raising have been rudely rebuffed? Closer. It's actually his daughter (Chiao), whom no-one knows has any skills at all, but has apparently learned them in secret, and goes out at night, stealing valuables in order to fund the charity operations of her beggar pal. Needless to say, their previous owners are less than happy with this, and are seeking the culprit, led by policeman Xi Lang (Yueh). Things are muddied further when a group of bandits, the engagingly-named Five Devil Rock gang (I think I just found my band name!), steal an imperial seal, forcing the Butterfly's father out of retirement, and her to reveal herself to save him.
There's really two halves to this film. The first is, for me, more interesting, though it's rarely less than obvious Chiao is doubled for any acrobatic work: shot of her jumping, cut to stuntman flying through air, cut to Chiao bending her legs slightly on landing. The style is also defiantly old-school and Peking Opera based, which will come across as stagily artificial to modern eyes, and you do have to remember this was made 45 years ago. However, I did appreciate the long-duration takes, and even though the action quotient was lower, the characters, performances and plot were enough to keep me interested: it plays a little like Iron Monkey, one of my all-time favourite martial arts films, and the idea of a female Robin Hood certainly has enough potential.
Unfortunately, the second half, when the bandits show up and dominate things, is rather less succesful, falling back on a number of old clichés of kung-fu cinema, such as the battle between schools. Until the finale, the heroine is largely reduced to a supporting role, ministering to her poor father, for whom the stress has become too much. While she is more active in said climax, it had me rolling my eyes at its extreme example of the trope where the villains have the good guys outnumbered – literally here, a hundred to one – but attack in ones and twos rather than rushing en masse. Here, it's even more ridiculous, because the good guy minions beg their leaders to go in first (inevitably, getting their asses kicked), so neither side appear interested in using all their forces. While spectacular enough, I suppose, the end result just doesn't live up to the early potential.
Dir: Lo Wei
Star: Lisa Chiao Chiao, Yueh Hua, Tien Feng, Yeung Chi Hing