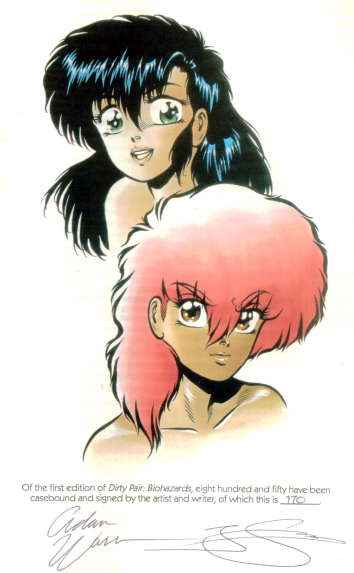 If you thought the novel was a quick read, I got through Biohazards during lunch, and that's only with 30 minutes. Still, being a comic-book, we must cut it some slack, though I can't say I find action (and there's a lot of it here) is something that works very well in panel form, lacking the true sense of motion you get in cinema. That said, I still didn't hate this first entry in the trans-Pacific entry, in which Kei and Yuri are sent to investigate the kidnapping of an industrialist's mind by his rival [literally: it's on a chip]. Adding a little spice, both companies are knee-deep in dubious bioweapons, so who is the real villain here?
It's another different style, in some ways perhaps more Japanese than classic DP, though still with something alien to it, as if the artist had learned from one of those "Draw Manga" books. Which is less a knock on Warren than it probably sounds, being more an acknowledgement of how influential the Dirty Pair comics are [there was a time when manga was not to be found in Borders, y'know]. The in-jokes are actually more restrained than I remembered – and expected, after the very first page has a security guard singing the theme to Magnum of Love's Destiny, a movie from the City Hunter series. But that was about it, unless "Power up the synthesizer, Neil" is a Rush reference? Hard to be sure…
There are some interesting nods to the original novels, such as Mughi's ability to manipulate the electromagnetic spectrum, and Yuri's Bloody Card weapon is almost exactly as described in Great Adventures. That may be the weakness here, in that Warren and Smith seem less intent on bringing anything new to the characters, than being faithful to the original texts. As the series progresses, however, that would become less of an issue, but while the first, this is certainly not the best, or most representative, of the US comics.
Story: Toren Smith and Adam Warren
Art: Adam Warren