"A better trailer than a movie."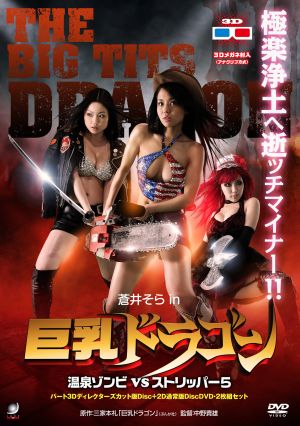 There seem to have been a spate of these recently. Not just zombie flicks – though there's been no shortage of those – but zombie flicks set in or around strip clubs. This is the Japanese take, and follows more or less the expected pattern of such things, combining nudity, violence and self-awareness in varying degrees. At least initially, this is definitely leaning towards a 70's, grindhouse aesthetic, but after a few minutes, that aspect vanishes, and never really returns. Instead, it's a fairly straight-forward tale of a motley crew of stereotypical strippers, e.g. the money-hungry one, the intellectual one (who quotes George Bataille), who work at a pretty crap club in a spa town, but who find a tunnel leading across the street, which brings them to a book of dark magic and a well containing an apparently infinite supply of zombies.
It takes its time getting that far, and given the title, it's a lot more restrained in terms of nudity than you might expect. It's clearly not intended to be taken seriously, and does seem to be riffing on the genre (another of the alternate titles is Hot Spring Zombies vs. Strippers 5). At one point, a character says, "Must be a cheap movie. They're big recently. Like some girl fighting zombies with a sword" – perhaps a reference to Onechanbara, which is also echoed in some of the costumes. But the make-up is largely bargain-basement stuff, and so are most of the FX, with obvious wires at some points, and an over-reliance on unconvincing digital work.
The real problem here, is likely that it tries to be too many things, and ends up being not all that good at any of them. It's a fairly poor zombie flick, and certainly can't hold a candle to the uber-gory genre entries also coming out of Japan in the past few years. As noted, it's pretty tame for a movie set where it is, and none of the more traditional aspects of cinema (characters, performances and script) are interesting enough to make up for those shortcomings on the grindhouse front. It doesn't exactly outstay its welcome, at a brisk 73 minutes, and can be commended for that, and certainly being aware of (and, largely, not giving a damn about) its limitations. However, like many of its kind, the sizzle is considerably better than the steak.
Dir: Takao Nakano
Star: Sola Aoi, Risa Kasumi, Mari Sakurai, Tamayo
a.k.a. The Big Tits Dragon