"Lady Vengeance"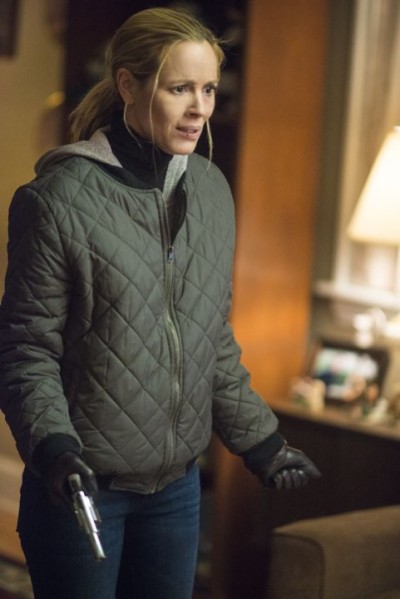 Easily punching above its weight for a Lifetime TVM, this is as disturbing as you'd expect from the director of the original Girl With The Dragon Tattoo, working off a Stephen King short story. Crime writer Tess Thorne (Bello) is on her way back from a speaking engagement, when her car gets a puncture; the large gentleman (Harris) who stops to help, turns out to be a savage rapist, who brutalizes Tess repeatedly, before leaving her for dead in a storm-drain, beside his previous victims. Tess survives, but is traumatized by the experience, and won't tell anyone what happened. Her mind begins to fracture, with the leading character in her book (Dukakis) coming to life and talking to her – as well as the GPS in her car (not credited, but reportedly the voice of King). Digging in, Tess finds that her accident may not have been quite as accidental as she thought, and her quest for vengeance, is going to require a broader net than she initially thought.
It's the performances which make this work, though the concept is solid enough, containing a number of elements readily identifiable as King staples, e.g. dead people talking. The translation to screen does have its issues; never explained, for example, is how Tess's disabled car shows up in the parking lot of a biker bar, fully intact and with her possessions inside. Much though the resulting cameo from 80's rocker Joan Jett is welcome,, it's a blatant plot hole which should have been addressed. That aside, it's much grittier than I expected, with the assault in particular pulling so few punches, I have to wonder if the version which played on Lifetime was edited for content compared to this DVD release. Bello does a good job of taking the audience inside the disintegrating mind of Thorne, to the point where we genuinely wondered how much of what we were seeing had a basis in reality, or if it was just a psychological coping mechanism. Dukakis is also excellent, providing a restrained, yet sarcastic counterpoint of commentary to the heroine's actions, as she falls apart, yet still proceeds with her mission.
Things proceed to a thoroughly adequate conclusion, even allowing for the vast difference in size and strength between Tess and her assailant; if nothing else, guns are certainly a great equalizer! But Tess's smarts are just as important as her aggression or lust for vengeance, helping her both uncover the truth about what happened, and then ensure that the police don't track her down after the event. The traumatic experience certainly leaves her a changed person, and probably only right it should; not a journey I'd want anyone I know to experience themselves, but it may indeed be a case of, what does not kill you, makes you stronger.
Dir: Mikael Salomon
Star: Maria Bello, Will Harris, Olympia Dukakis, Stephen King