"Does exactly what it says on the tin."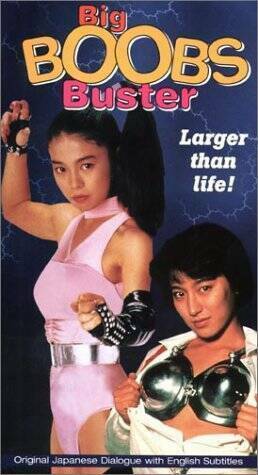 As you can probably surmise from the title, this is most emphatically not a gentle and touching saga of four women who laugh, cry and grow together. Instead, it's about a schoolgirl, traumatised by rejection due to her small chest, who adopts a secret identity in order to make silicone moulds of her larger-bosomed schoolmates. I'm tempted to claim it's based on an Oscar Wilde short story, but your credulity is already under enough strain.
Instead, I'll start by pointing out to any lurking breast-fetishists that the Japanese definition of "big boobs" is, shall we say, not as expansive as ours. Still, less-demanding deviants should just about find enough to keep them entertained in lines like "Damn your raunchy bra!", especially in a fine opening quarter. With a school full of perverts, it's a concept with scope for Kekko Kamen-style parody – unfortunately, it peters out when mammorially-challenged heroine Masako (Harumi Kai) joins the track team instead. This is full of the usual tough training cliches, and is thus generally uninteresting.
The tape also includes ten minutes of Masako falling off her bike, plus other wondrous footage from behind the scenes. Wonder what the makers, including respected anime creator Taro Maki as executive producer, did with the rest of their weekend…?
[This review originally appeared in Manga Max]
Creator: Hisashi Watanabe
Star: Harumi Kai, Maruki Itsuki