"Promising concept gets bogged down in man-hating chick-anery."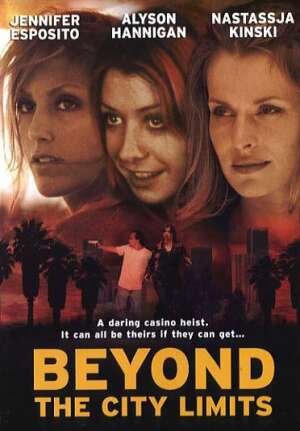 "It was a nightmare to shoot: the producer and director were constantly fighting… It was completely unorganised. Alexis [Denisof] was also in it and he and I would go into each other's trailers and go, "We've made a huge mistake, this is the worst thing ever!" It just went terribly, terribly wrong." So says Hannigan: wouldn't say it was that bad, but it certainly ain't good, either.
After the girlfriends (Hannigan & Kinski) of two Russian crooks get dumped, they sabotage a casino heist as revenge, then take it on themselves, with the security manager's assistance. This crime is easily the most interesting part of the film, as things go awry and must be dealt with. Wish it had turned up an hour earlier, instead of the "men are utter bastards" whining that occupies the first two-thirds. The presence of Sophie B. Hawkins, both on screen and the soundtrack, doesn't reduce the irritant factor any.
Why do they need police assistance? Why the random voice-overs? Why is Esposito's cop ex-husband (Field) suddenly chased by other officers? This film doesn't so much finish, as end, and most of the cast, save Russian psycho Brian McCardie, act as if drugged – perhaps literally in Hannigan's case, since she plays a junkie. [Just like in American Pie, she seems keen to leave Buffy far behind, though she's bisexual here too]. The US retitling is obviously intended to invoke Set It Off: that such a lame ploy is deemed necessary is all you need to know.
Dir: Gigi Gaston
Star: Alyson Hannigan, Nastassja Kinski, Jennifer Esposito, Todd Field
a.k.a. Rip It Off