"A blandly over-cooked platter of spaghetti"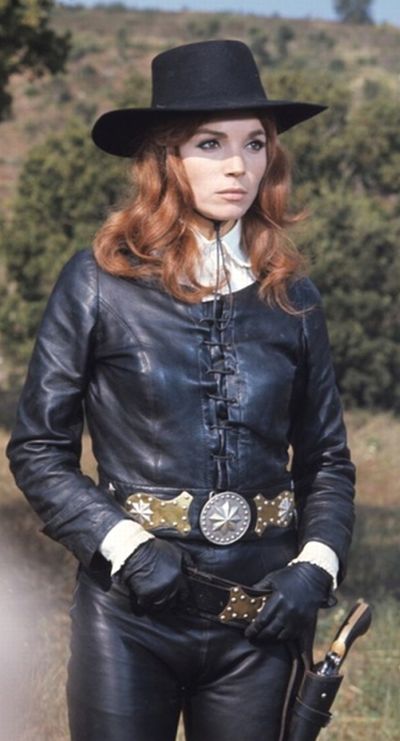 This is virtually unique, in being almost the only spaghetti Western with a female lead, and certainly unique in being the only one directed by a woman. Unfortunately, beyond these novelty aspects, it's really not very good. Indeed, the overall attitude on view here is so remarkably retrograde, the gender of its director would likely be a surprise, if you didn't know what it was going in. The film certainly keeps it quiet, disguising Wertmüller – who, seven years later, would become the first woman ever to receive a Best Director Oscar nomination, for Seven Beauties – under the pseudonym of "Nathan Wich". Whose brother is called Sam, presumably.
The anonymity is perhaps because she wasn't originally intended to direct. She took over from Piero Cristofani, some sources say as a favour to leading lady Martinelli. Wertmüller then rewrote the script to reduce Woods's role, with whom she reportedly had on-set battles. A bit like the more recent, yet similarly cursed Western, Jane Got a Gun, it's perhaps remarkable the makers managed to come up with a finished product at all. And also similarly, the behind-the-scenes saga is likely a good deal more interesting than said finished product.
There's no denying Martinelli looks the part, as renegade, gambler and outlaw Belle Starr. She falls for the charms of fellow poker player Larry Blackie (Eastman), and they begin a tempestuous romance, which my wife sarcastically described as "Hit me! Kiss me! Rape me! Love me!" It's this aspect which seems especially at odds with the rest of Wertmüller's filmography, much of which is populated by strongly feminist characters. Here, Belle seems both to crave Blackie's attentions and loathe him with a passion. She declines an offer to bring her on board for his planned robbery of a diamond shipment, instead setting about assembling her own crew, which will beat him to the loot.
Before we get to that, there's a long, long flashback, covering Starr's life to that point. In its entirety. In real-time. Or perhaps it just seems that way. It certainly brings the story grinding to a halt. We see how she was brought up by an abusive foster uncle, from whom she was rescued by the outlaw Cole Harvey (Woods). He tries to rape her – yeah, you may be forgiven for detecting a bit of a theme here – and is killed for his pains, which helps set Belle off on her life of crime, poker and questionable romantic choices.
Beyond Martinelli's look, there's very little to recommend this, particularly for the first hour – it does pick up somewhat late, as Belle and Larry simultaneously stage their robbery attempts. Until then, even getting beyond the dubious sexual politics on view, this is poorly written, and just not very interesting. Wertmüller can't even shoot a poker game properly; she'll show you the cards, and half the time, you don't know whose they are. Sad though it to say this, you can certainly understand why it was a case of "one and done," both for spaghetti Western heroines, and Wertmüller's genre efforts.
Dir: Lina Wertmüller
Star: Elsa Martinelli, George Eastman, Robert Woods, Francesca Righini