"This world was made for hate, not love."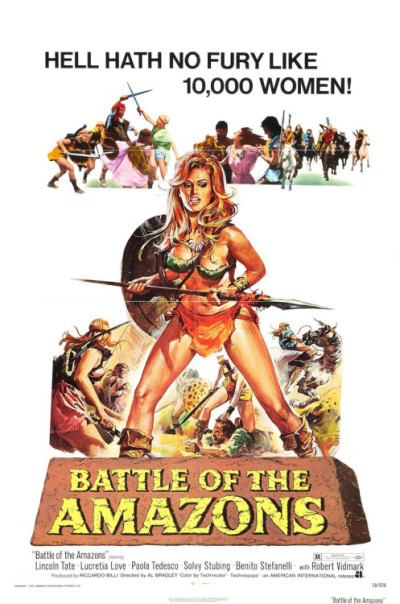 It's startling to think that when this came out, this merited not only a theatrical release in the United States, but a review from perhaps the most respected critic of our time, the late Roger Ebert. Needless to say, it didn't end well for the film, but Ebert tearing apart a film is still fun to read. I particularly liked the line, "There are spears and bows and arrows and swords, which suggests early times, but then again all of the women on both sides are fresh from the hair dryer. They also exhibit impressive technical advances in the art of brassiere-design." Yeah, welcome to The Magnificent Seven – only set in a vaguely Greco-Roman era, with a tribe of rather vicious Amazons the antagonists.
They live by raiding and plundering local villages, under Queen Eraglia (Love), but after they kill her father, local lass Valeria (Tedesco) has had enough, and rents the service of conveniently-passing bandit Zeno (Tate), to teach the village farmers how to defend themselves. However, the sexual chemstry that flies between Valeria and Zeno fail to impress her betrothed, who convinces a group of village men, that their best chance of survival is to switch sides, reveal details of the defense plans to Eraglia, and hope she sees fit to give them mercy. It turns out though, that he may not be the only snitch present in the town camp, as things proceed towards the entirely expected finale, a lengthy battle pitting the raiding women against the defending agriculturalists.
It's actually a little darker and possibly somewhat more well-thought out than I expected: the final line of dialogue being the one atop this review, which sprinkles a nice sense of doom and futility over things, and the multiple levels of betrayal are effectively handled. I started watching this on a plane flight to New York, but I think the second topless torture scene was about where I opted to save it for another day, though there really isn't much else here worse than PG-13 rated. Tedesco makes a good impression as the feisty heroine, and it's a nice touch to have women effectively leading both sides, though when it comes to the actual fighting, Valeria obviously steps aside for Zeno. Sadly, the Amazons also step aside when the action kicks off, largely being unconvincingly replaced by male stunt doubles in masks and wigs. Valeria acquits herself best there as well, indeed coming to the rescue of her employee in the final face-off. I can't honestly say I minded the dubbing as much as Roger, and the time passed briskly enough on its way to an appropriately grandiose finale. Though I'm certainly agree with him on one point: I'm not quite sure why the local men made such a fuss about getting kidnapped…
Dir: Alfonso Brescia
Star: Lincoln Tate, Paola Tedesco, Lucretia Love, Mirta Miller