"Zombies vs. wrestlers."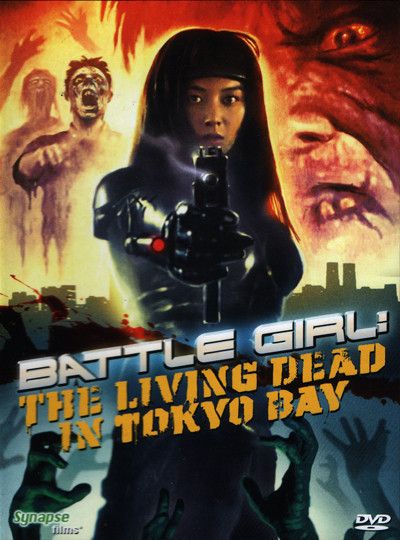 A meteor crashes into Tokyo Bay, creating a cloud of "cosmo-amphetamine" that infects everyone in the area. When they die, that drug immediately takes over, bringing them back to life as flesh-eating zombies. Colonel Kirihara is leading the rescue mission, and sends his daughter, K-ko (Suzuki) into the contaminated zone to scope things out. She finds that one of his underling, Captain Fujioka, is using the chaos to carry out human experiments, deliberately infecting survivors with the cosmo-amphetamine, in order to turn them into an unstoppable force of undead soldiers. He's not willing to let anyone get out alive, least of all K-ko. Fortunately, her father gave her a battle suit, which helps to even the odds against the living dead army she faces.
It's a small-scale production, though has had more than the usual thought put into it. I appreciated, for example, the scene inserted at the beginning, to explain why the power remains on in the city, despite the unfolding disaster. The first half is nicely put together, with K-ko making her way through the city, encountering the "Battle Kids", a bus-driving group of black marketeers, and uncovering Fujioka's evil pans for those unfortunate enough to be inside the quarantined area. It's less effective down the stretch, becoming not much more than a series of human vs. zombie battles, that blur into each other without much sense of escalation. It's no spoiler to say it leads to the inevitable battle between K-ko and the soldier-scientist. Albeit, only after an unconvincing gobbet of exposition, with clumsy lines like, "If the world powers dare to wipe out our nation, we'll counter attack with 35 meltdown-ready nuclear plants in Japan and a cosmo-amphetamine mutant army which has no fear of death."
At the time, Suzuki was one of the biggest stars in Japanese women's pro-wrestling, and acquits herself fairly well in the action scenes. These are blocked and shot in a similar way to puroresu, with a minimum of editing, and some of her ring rivals also show up as members of Fujioka's "Human Hunter Unit," including Devil Masami, Shinobu Kandori and Eagle Sawai. This explains why the combat includes moves not normally seen in hand-to-hand battles, including the tilt-a-whirl backbreaker and tombstone piledriver. It does not, however, explain the battle bikini, worn in particular by one opponent. You'll know her when you see her. Or them, if you know what I mean and I think you do…
Overall though, time has been fairly kind to this 1991 Japanese video production. A quarter of a century later, it appears to have had a significant influence on the Resident Evil films, particularly Apocalypse. It has perhaps also benefited from the renaissance in the zombie genre over the past few years. While still unquestionably low-budget, what seemed somewhat underwhelming when I originally watched it in the late nineties, now seems quite acceptable, and maybe even ahead of its time.
Dir: Kazuo Komizu
Star: Cutie Suzuki, Kera, Keiko Yahase, Kenji Otsuki