"Russian into battle."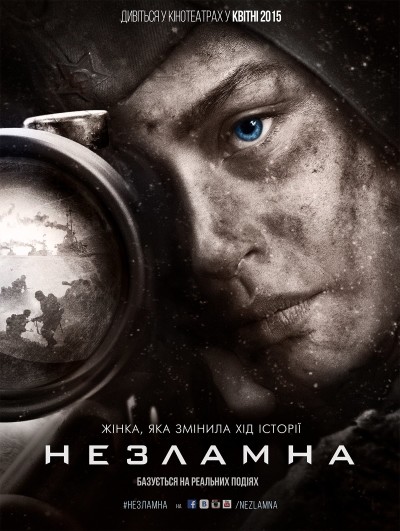 We wrote previously about Lyudmila Pavlichenko, a.k.a. "Lady Death" one of the many bad-ass Soviet women who helped fight off the Nazis in World War II. So, if you've been paying attention, you should already know her story, as a female sniper credited with over three hundred enemy kills before being wounded and forced out of front-line action. She then became a spokesperson for the Russians, globe-trotting to raise funds and elicit overseas support, becoming the first Soviet citizen received at the White House, by then President Franklin Roosevelt, and his wife Eleanor – with whom, if this film is to be believed, Pavlichenko developed a strong friendship.
The movie was a Russian-Ukrainian co-production, which is interesting in itself, given the often strained nature of recent relations between the countries. I guess one of the few things on which they can both agree, is that killing Nazis should be lauded. The results are solid enough, hitting the expected notes and telling a respectful, if somewhat too distant, portrait of a heroic figure. The original Russian title translates as Indestructible, and that seems perhaps more appropriate, as she get blown up, shot, and blown up again, defiantly begging her way back to the front repeatedly. Mokrytskyi is at his best with these large-scale spectacles, unfolding over a soundtrack both period and contemporary; in particular, a sequence during an evacuation by boats is stunningly well-constructed, giving a real sense for the hideous, beautiful chaos of war.
It's rather less successful at giving us insight into the character of the heroine, as played by Peresild; she's clearly a strong-willed young woman, but that's about all you get. There are various semi-romantic interludes, as various of her male comrades are wheeled on and off, yet these seem only to provide pauses before the next burst of (undeniably impressive) mayhem. The structure also leaves a little to be desired, switching back and forth between her wartime exploits, and Pavlichenko's trip to the United States where she met Mrs. Roosevelt (Blackham). It's all a little bit fragmented, without much narrative flow, and feels more like a selection of unconnected segments, rather than providing a sense of Lyudmila developing as a character. Perhaps it might work better for an already audience familiar with the backdrop of time and places in which it's set; my knowledge of the Eastern front and Soviet geography is sketchy, to say the least, and the movie appears to presume a higher level.
This is somewhat disappointing, though some of that is because it makes for a really good trailer (below), and because this has been teasing me from the "to watch" pile for what feels like ages, as I waited for coherent English subtitles to be available. Not to say this is a bad film – far from it – just that Mokrytskyi has a better handle on the explosions than his character. Perhaps he is the Michael Bay of Russian cinema? If so, at least it's closer to good Michael Bay, e.g. The Rock, than bad Michael Bay (Pearl Harbor).
Dir: Serhiy Mokrytskyi
Star: Yulia Peresild, Joan Blackham, Yevheniy Tsyganov, Vitaliy Linetskiy