"Barely entertaining."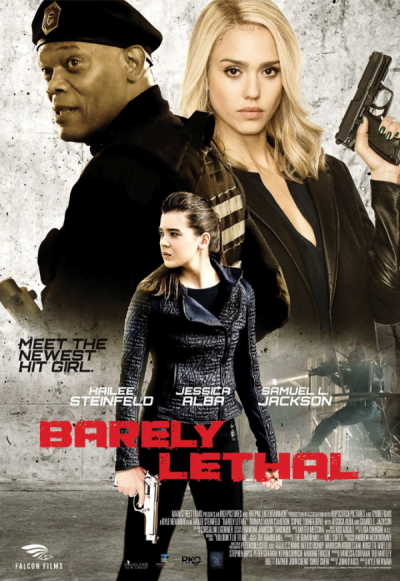 I could hear Chris's eyebrows raising when the title here rolled: what kind of film was this? Fortunately, the arrival of Samuel L. Jackson reassured her ruffled eyebrows – and is that Sansa Stark as well? Alright, then: if you insist… It turns out to be a mash-up of two genres: the 'teenage killing machine' and the 'high-school drama', and is every bit as awkward as that sounds. Since being orphaned, Megan Walsh (Steinfeld) has been brought up as an assassin in a remote location, under the tutelage of the appropriately-named Hardman (Jackson), and with another trainee, Heather (Turner), a fractious rival. However, Megan begins to wonder what she's missing in "real life"; after a mission to capture evil nemesis Victoria Knox (Jessica Alba), ends with Megan plummeting into a river, and presumed lost by her employers, she opts to start a new life. She becomes an 'exchange student', falls for the local hot kid (Mann), ignores the AV geek (Cameron) who falls for her – the usual sort of drama. After an incident at school goes viral, Hardman realizes his top agent is not as dead as he thought, and worse still, Knox has broken out of custody, and has revenge on her mind. Can Megan handle all that and still make it to Homecoming?
It's an interesting idea, not least because Megan bases her knowledge and understanding of the world on the likes of Mean Girls and 10 Things I Hate About You. A satirical skewering of the difference between those and reality would be welcome, or even something darker in tone, along the lines of Heathers, with Megan's lack of moral compass letting her clean out the dregs of the school with no qualms. However, the film seems less interested in satire, than going through the same cliches: it doesn't help that Mann resembles a cross between Justin Beiber and Robert Pattinson. There's nothing new or remotely interesting about this aspect, and it brings the film to a grinding halt. That's something of a shame, as the action plot is nicely-handled, with some decent set-pieces. Jackson and Alba are old hands at this kind of thing, and I'd far rather have seen a film concentrating entirely on their struggles with each other, using the likes of Steinfeld and Turner as proxies.
It's hard to say who the target audience is for this, or at least find one which would be satisfied by both aspects. Those who enjoy the school drama are likely to be uninterested in high-jinks out the back of a plane. Certainly, those who are looking for action – raises hand – will find themselves bored to tedium in the middle of this. At the end, Chris turned to me and said, "I didn't think this would be your sort of film." I think she has a point. I'm perhaps three decades or more, and a sex-change, from being able to appreciate this.
Dir: Kyle Newman
Star: Hailee Steinfeld, Thomas Mann, Dove Cameron, Sophie Turner