"Not quite Bollywood."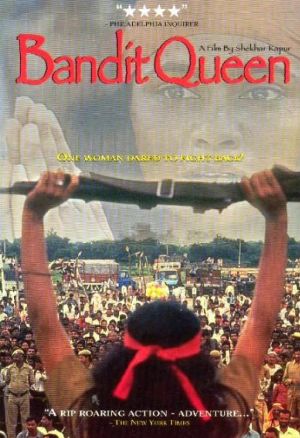 If you've seen Bollywood films, you might expect the same here – a light, breezy romp, interspersed with gratuitous musical numbers. Wrong, on every conceivable level. It's an almost unrelentingly grim portrayal of the life of Phoolan Devi (Biswas), sold off by her family at the age of 11, abused by her husband (Shrivastava) as well others in the higher-ranked Thakur caste, and basically treated worse than an animal. She's eventually abducted by a gang of bandits, whose lieutenant Vikram (Pandey) is sympathetic to her: when the leader tries to rape her, Vikram shoots him in the head, and takes over, making Phoolan his co-chief. However, after the group's true leader is released from prison, he's none too happy, and sets out to teach Phoolan a lesson than will make her earlier misfortunes seem like paradise.
How much of this is true, is open to debate. Devi was supposedly so upset by the film, she threatened to set herself on fire outside a cinema if the film weren't withdrawn, but the depth of her anger can be questioned, since she ended up being paid off by the producers. The basics do seem true, and it's a remarkable story, centred on a performance from Biswas that leaves nothing in the locker. It's also entirely unlike any other Indian movie I've ever seen, being foul-mouthed, brutal, and even contains some full-frontal nudity – though that is far more unsettling than anything else. However, in depicting the hellish life of low-caste women, it goes beyond the eye-opening to the stage where you almost find yourself thinking, "Oh, look: she's being raped again." Less would be substantially more, in terms of impact.
It's definitely more drama than action, with her gang's raid on a village the main set-piece in this area. Another thing that doesn't quite work is Biswas being a full decade older than the character she's playing. In reality, Devi's rise to bandit infamy and eventual surrender to authorities was all over, while she was still a teenager, which is quite stunning. The movie certainly exposes a side of Indian life unlike one you'll have seen, even if probably not one you'll want to see again. But it certainly shows that someone is pushed far enough, they will push back.
Dir: Shekhar Kapur
Star: Seema Biswas, Nirmal Pandey, Aditya Shrivastava, Saurabh Shukla