"Back behind bars, and back on track."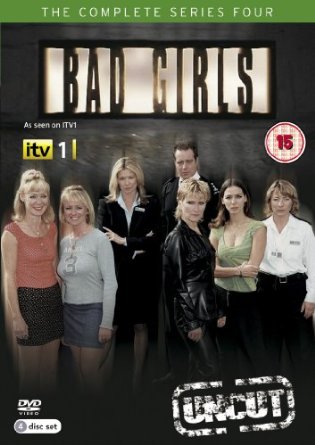 The real strength of Bad Girls is the almost limitless possibilities of the scenario; if ever things are in danger of getting stale, it's easy to lob in fresh characters to get the pot stirred up and create whatever angles you want. Exhibit A: new governor, Neil Grayling (Gadds), whose arrival gave the show a whole new direction, at least among the staff – and particularly Jim Fenner, who discovered a whole new viewpoint of sexual harassment. Not that it really made him see the error of his ways, of course.
Obviously, within the general prison population, life went on as before. Well, that's if "as before" means murder, suicide and escape attempts, a birth… And – with the departure of Helen and Nikki at the end of Series Three – new lesbian couple, Cassie and Roisin, though their whining grew increasingly tiresome as the series went on. Truth be told, there also wasn't a great deal of light in this season; after a while, you yearned for something to take the weight off. Even the two Julies seemed on a downward spiral.
However, the strongest point of the show this year was the full-flowering of Yvonne Atkins (Henry), who has become the focus around which the series revolves, and one of the best female characters in any TV series. It started with her being set-up for murder, but by the end, we were aware there was much more to this fabulously complex character, underneath the hard shell. Every scene with her in it was a delight to watch, and kept the show a shining jewel in the crown of British television. The cliffhanger at the end (who lives? who dies?) had Chris scurrying immediately for Ebay, and series five.
Star: Linda Henry, Jack Ellis, James Gaddas, Isabelle Amyes