"Guilty of being a solid and thoroughly entertaining drama."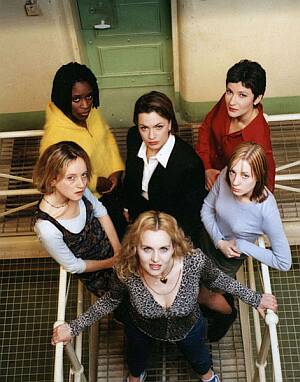 Women-in-prison is not a genre greatly within our remit, since they're often just an excuse for a bit of soft-core masochism. There are occasional exceptions, however, and this is one, with its origins as a network TV show forcing restraint of the more exploitative aspects, as well as permitting the characters to develop more fully than in a movie.
This is especially necessary, since at first glance they are your usual cliches: slimy warder, do-good governor, lesbian with a heart, wrongly imprisoned innocent, etc. However, over time, we get to see more facets, and the acting is, without exception, impressive. Perhaps unsurprisingly, we particularly warmed to the villains, Jack Ellis as Fenner, a guard who deals out privilege in exchange for sexual favours, and Debra Stephenson as the psychopathic Michelle Dockley.
Credit to the writing too, which maintains a fine balance, most notably the episode which switched between a funeral and attempts to brew up home-made wine. You truly didn't know whether to laugh or cry. But why does almost no-one ever get out of jail, except in a body-bag? Could probably stand a little less of the unresolved sexual tension between Nikki (the good dyke) and Helen (the nice governor) – I'm no fan of it, gay or straight – but I suspect this side will run and run, and we're happy to put up with it.
Star: Mandana Jones, Simone Lahbib, Debra Stephenson, Jack Ellis