"Because every Japanese schoolgirl wants to grow up and become a professional wrestler. "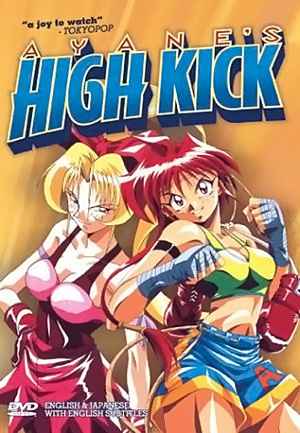 Ayane tries out for the All-Japan Women's pro-wrestling federation, but is rejected. However, on the way home, she meets a mysterious trainer, who recruits her for his indie group, promising that if she does well, AJW will likely pick her up. What Ayane doesn't know, is that her trainer has no interest in pro-wrestling, but wants to use our heroine's lethal leg skills to make her a kick-boxing champion. Ayane eventually discovers the truth, literally in the ring at her first bout; after the inevitable struggles, she wins, in spectacular style, but vows to quit the sport. However, her victory grabbing the headlines infuriates a rival, who turns up at Ayane's school to issue a challenge. Which is not good, since the vice-principal is just looking for an excuse to expel her.
This is full of the usual OTT mugging familiar from light-hearted anime fare, such as Project A-ko, and is clearly not to be taken seriously. That said, there are some nice references and cameos, not least by Manami Toyota as the reigning AJW champion – in the subtitles, she's referred to as 'Toyoda,' which I think is probably just an alternative translation, rather than an effort to avoid a lawsuit, since she's portrayed in a positive light. However, this angle seems to be seriously diluted in the second episode, where Ayane is more fully engaged in her role as a kickboxer.
The fights use all the trickery available to animation to enhance them, though a passing Chris commented, "Looks like Speed Racer," due to all the lines in the background when portraying movement. That said, they're used because they work, and the results are quite effective. Less successful are the too-broad attempts at comedy, and outside of Ayane, the characters don't really grab your attention, such as the schoolmate, or "whiny lesbian" to quote the passing Chris once again. That said, I was entertained for fifty minutes: the version released here has two episodes, and the way it finishes seems to imply more to come – however, nothing seems to have been made. That's something of a shame; seeing the Japanimated dreck which clogs up the shelves in Best Buy these days, I wish Ayane had gone on for a few more rounds.
Dir: Takahiro Okao
Star (voice): Yûko Miyamura, Akio Ôtsuka, Kumiko Nishihara, Maria Kawamura