"Nice hats – shame about the movie."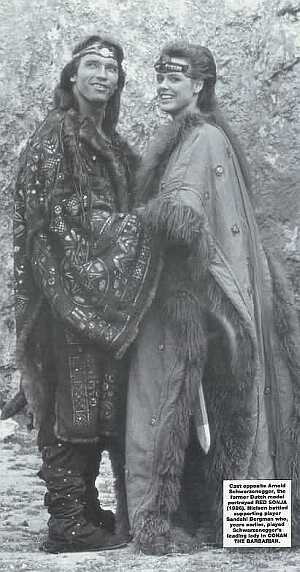 No, really. The milliner on this production deserves an Oscar, simply for providing the most amazing range of headgear I've ever seen. Everyone seems to have a different selection of pointy things to choose from; this civilization may have limited technology, but it's clearly not short of hat-shops.
Unfortunately, this is largely the best thing about the movie. Nielsen, before getting buffed-up and implanted, doesn't have the physical presence to carry off the role. On its own, this wouldn't be fatal to the film, but she is woefully short on the emotional intensity which could have compensated (c.f. Hudson Leick) – she makes Arnie look like a talented thespian. The purpose for her revenge against Queen Gedren (Bergman – who turned down the title role, showing remarkable foresight perhaps) is glossed over so rapidly that it has no impact either, and the pointless and extremely annoying kid made me wish that the talisman stolen by Gedren would suck the entire universe out of existence. Way too many riding-riding-riding shots too, accompanied by one of Ennio Morricone's less memorable scores.
Good stuff? Er…the fight between Sonja and Gedren at the end is actually pretty good, and you wish Sonja hadn't spent the first 90% of the movie having to be rescued all the time. The only other saving grace is that it isn't quite as bad a comic-book adaptation as Tank Girl. But how could it be?
Dir: Richard Fleischer
Star: Brigitte Nielsen, Arnold Schwarzenegger, Sandahl Bergman, Paul L. Smith