"20 minutes of acceptable entertainment gets stretched very thinly."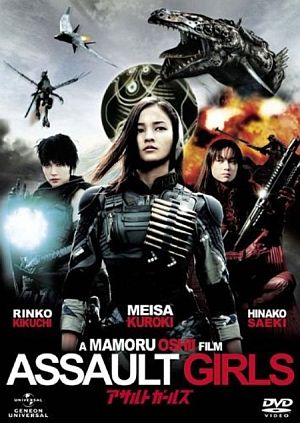 A loosely-related sequel to Oshii's last live-action film, Avalon, this is similarly set in a VR world, and muses on the relationship between real life and game life. This one is a lot less populated; there are only four people in it, roaming a desert landscape, with the targets being giant sandworms (think Dune) and the "boss" Madara, the mother of all sandworms, whom the game helpfully informs contestants, cannot be killed single-handed. The four get together to launch an attack on it, having agreed to split the game reward equally. Is that quite how things are going to turn out?
That's it, plotwise: describing the story as "slight" would be an insult to slight things. Opening with a burst of the most pretentiously incomprehensible voice-over in cinema history, this is only 70 minutes long, but still manages to outstay its welcome. This is mostly due to horrendous pacing; we watch one character do nothing but sit and fry breakfast for several minutes, while there's an interminable sequence in the middle, where the characters trudge around the game landscape and stare at a snail. I get the point: these are archetypes depicting different styles of game player. No, really: I get the point. Move on. Please. I was ready to gnaw off a limb to escape, by the time that ended. Matters are not helped by the characters largely speaking English, apparently phonetically, and without much grasp of meaning. I'm pretty sure I'd not win any Oscars performing in Japanese, and while one admires the effort, couldn't Oshii have found actors with some ability in English as a second language?
Things do perk up in the final act, when Jager (Fujiki, the only male) and Gray (Kuroki), have a battle over how the spoils will be divided. She kicks his ass, to his increasing annoyance. And I certainly appreciated the visual style here, which is easily the best component on view. This, along with the potential in the idea, saves it from being a total waste of your time, and I would not be completely averse to a further installment. Just as long as someone else writes the script.
Dir: Mamoru Oshii
Star: Meisa Kuroki, Yoshikatsu Fujiki, Rinko Kikuchi, Hinako Saeki