"More carbon-copy than asphalt."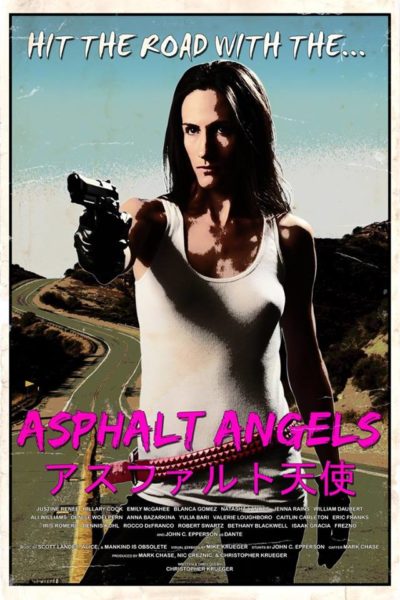 While the lack of resources is frequently and painfully obvious, I'm inclined to look kindly on this. My tolerance is due to the abiding love for our genre possessed by writer-director Krueger, shown in the influences, both obvious and subtle, on display here. From Faster Pussycat to Female Prisoner 701, he seems like the kind of man whose DVD collection reflects my own. Hell, despite being set in America, a character here even uses the greeting stance beloved of bad girls in pinky violence movies: knees bent, right arm outstretched, palm up. I can't truly hate a film made by someone who knows what that is.
The heroine is Casey (Renee), leader of an all-girl gang, but who wants to keep her sister Virginia (Gomez), an up-and-coming BMX champion, out of the criminal lifestyle. Two things derail Casey's life. Firstly, while rescuing li'l sis from the predatory clutches of another gang, she kills one of their members, and leader Dante (Epperson, shamelessly channeling a young Kevin Bacon) vows revenge. Secondly, a jewel heist goes wrong: she takes the fall so the other members can escape, and ends up in prison, where she has to survive the unwanted attentions of a sadistic lesbian guard, as well as the other inmates. Her absence is particularly bad news for Virginia, since her sibling's absence means there's nobody to protect her, when Dante and his crew decide she's a suitable target for their vengeance.
This production is certainly guilty of trying to go in too many directions. Is it a heist film? A women-in-prison movie? A gang flick? Revenge film? Krueger would have been better off concentrating his efforts in one area, especially given the extremely limited raw materials available to him. The prison, for example, appears to consist of a softball park and a field. There are almost no interior scenes at all. Worst of all is Virginia's BMX career, which includes copious shots of her waving to an entirely non-existent crowd, nowhere near any BMX track. Really, just make her an honor student at high school and it would have been far easier for everyone involved.
It's also rather tame for a film with grindhouse aspirations, though this is somewhat "explained" by bookend sequences which make it look as if it's a late-night movie on seventies network TV. That's an issue, because the bottom line here is, no matter how adoring a fan letter to the genre this is, it remains that: just a fan letter. Krueger's heart is in the right place, so it's not like this is some kind of cash-in "mockbuster". However, the harsh truth is, you're simply a good deal better off watching the films that inspired this. For no matter how much Renee tries (and, bless her heart, she certainly is trying), she's never going to be Tura Satana or Meiko Kaji. Imitation is the sincerest form of flattery, to be sure.
Dir: Christopher Krueger
Star: Justine Renee, John C. Epperson, Hillary Cook, Blanca Estella Gomez